What differentiates the classic Italian style from other designs is the attention to detail and the passion for elegance.
In a classic furnishing scenario, everything is taken care of and nothing is left to chance to achieve a sumptuous yet balanced atmosphere.
Arredoclassic collections fully comply with the dictates of this aesthetic trend without sacrificing comfort and coziness, which are essential in any living environment.
Speaking of welcomes, in this article we wish to focus on living room furniture. We are going to discuss a topic that many people take for granted, but that actually deserves special attention: chairs.
These furnishing accessories are the symbol of comfort and conviviality and, together with the table, form the dining set, which is the heart of the living room.
Let's see together which factors to consider before choosing the chairs that will complete the composition of this room.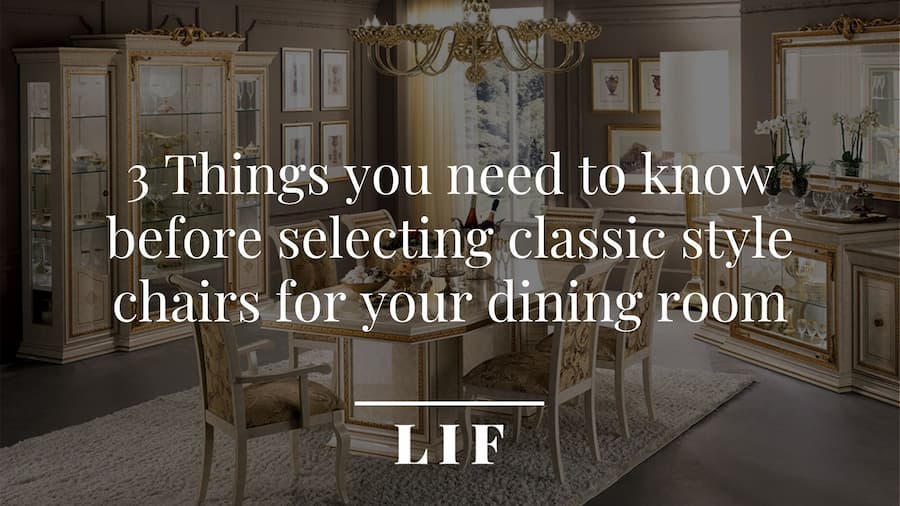 3 Key factors you need to consider before choosing classic style chairs
Chairs are an integral part of the living room furnishing. They cannot go unnoticed and are essential to add a touch of completeness to the interior design.
Here are the 3 main factors to consider when making the best style choice for your furniture:
Let's take a closer look.


1. Assessing the style of the collection chosen for the living room
In an interior design project first it is necessary to create a moodboard with a planner or designer, so that you can set the decor tone for the whole house.
Based on the moodboard, the characteristics of the potential furnishing elements with which to complete the living room design will be reviewed.
It is essential that each piece of furniture gives a sense of aesthetic continuity to the whole arrangement, so you need to consider the style in which you wish to furnish your home.
The classic style offers a wide variety of choices, including:
Neoclassical
Art deco
Renaissance
Baroque
Empire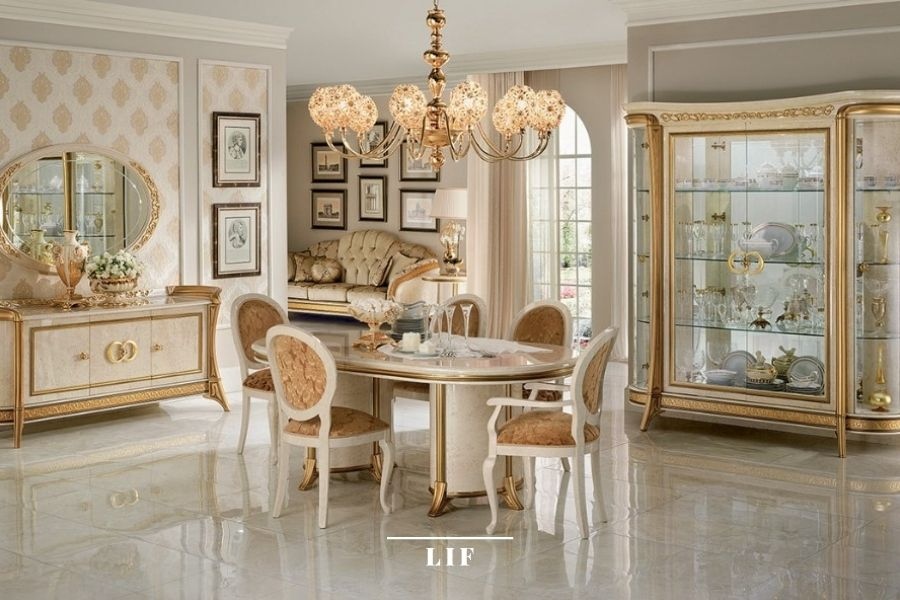 2. Give preference to chairs finished with fine fabrics
Once the aesthetic type that will dress each room overall has been established, it is necessary to move on to the heart of the project.
Choosing which chairs will complete the dining set is a decision that must be made with care, since they must reflect classic style materials and fabrics.
In fact, there are types of fabrics that are more and less suitable to classic furnishing. Visual impact, refined textures and an enveloping consistency are the characteristics of the finest fabrics and therefore the most suitable for a classic design setting.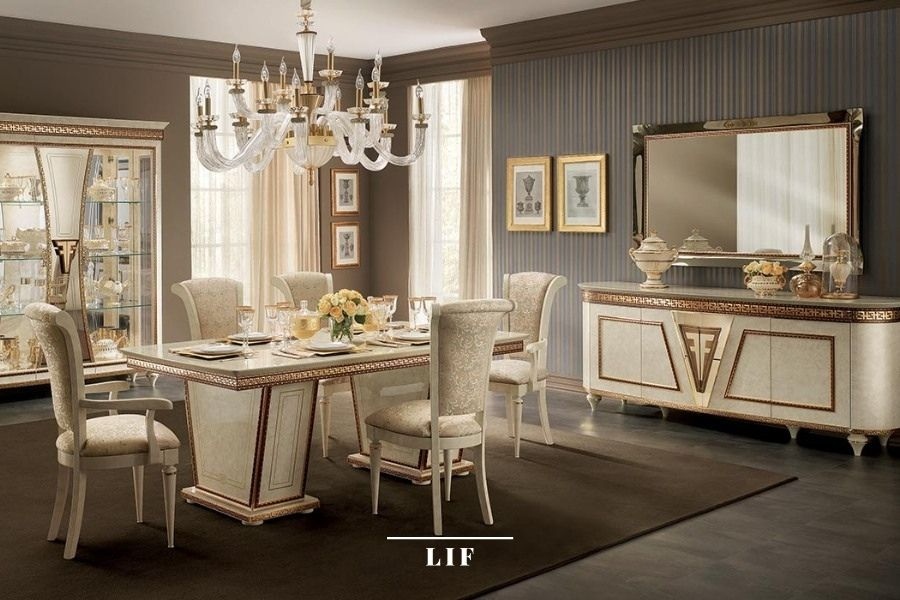 3. Opting for fabrics that match the room palette
Color and pattern also play a central role in the choice of fabrics to cover the chairs in the living room. Therefore, it is important respect the color scheme designed to define the entire furnishing concept.
We recommend that you choose precious fabrics that match the color scheme of the room. So be sure to choose shades with some golden or silver accents.
Next, a selection of fine fabrics, ideal for creating an exclusive atmosphere in the living room.
Velvet
A fabric with a caressing and enveloping texture, for a pleasant effect on touch and sight.
In addition to giving the seat a rich, high-quality appearance, velvet is an eye-catcher thanks to the iridescent reflections of its embroidery and intense shades.
With some chairs the living room will look extremely elegant and rich.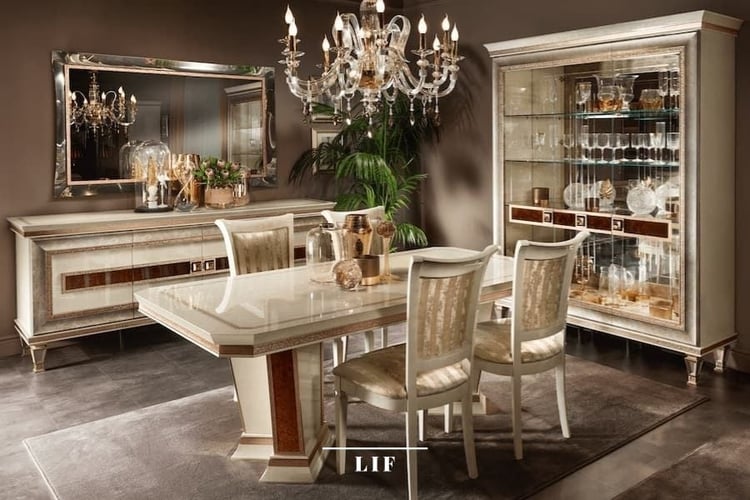 Lampas
Lampas is similar to brocade and it is a precious fabric that can give a new and extremely refined look to chairs.
Lampas processing features two warps and several wefts, details that make it recognizable above all by its undecorated side full of unbroken tangled threads.


Wool and linen
Wool and linen are materials of natural origin that always give chairs a versatile and graceful appearance.
As with the other fabrics, these are available in a wide variety of colors and finished with patterns and embroideries that recall the classic style.


Cotton
A fresh and natural fiber that is soft to the touch. The finest quality of cotton is Sea Island, used for the finest processing, characterized by a long silky fiber.
Available in plain colors and in various patterns, cotton dresses the chairs of the living room with extreme versatility, distinguishing itself for its straightforward and essential look.


Satin
This is a fabric with a uniform weave extremely shiny in appearance and smooth to the touch.
This quality fabric, recognizable by its shine of great visual impact and seductive reflections is available in plain colors as well as embellished with precious prints and embroidery.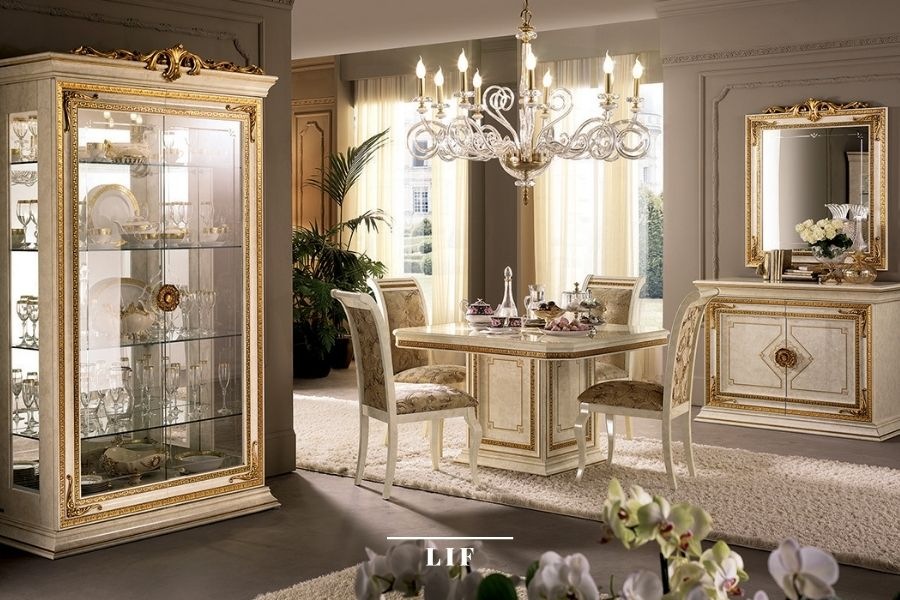 Brocade
Brocade is characterized by a smooth or textured background with intricate processing, with inlays and additional threads to create patterns and embroidery in relief, in gold or silver, with sinuous lines.
It is a fabric of unquestionable value. Brocade-covered chairs are beautiful in every way: from the simplest prints to more complex designs such as decorations, arabesques, frames, acanthus leaves and other floral patterns with a strong classical appeal.


Damask
Damask differs from satin for its charming shine on both sides and its unique texture.
There is also another characteristic feature that differentiates these two fabrics: the use of the sides. With satin, only the shinier side can be used, while with damask both sides can be used.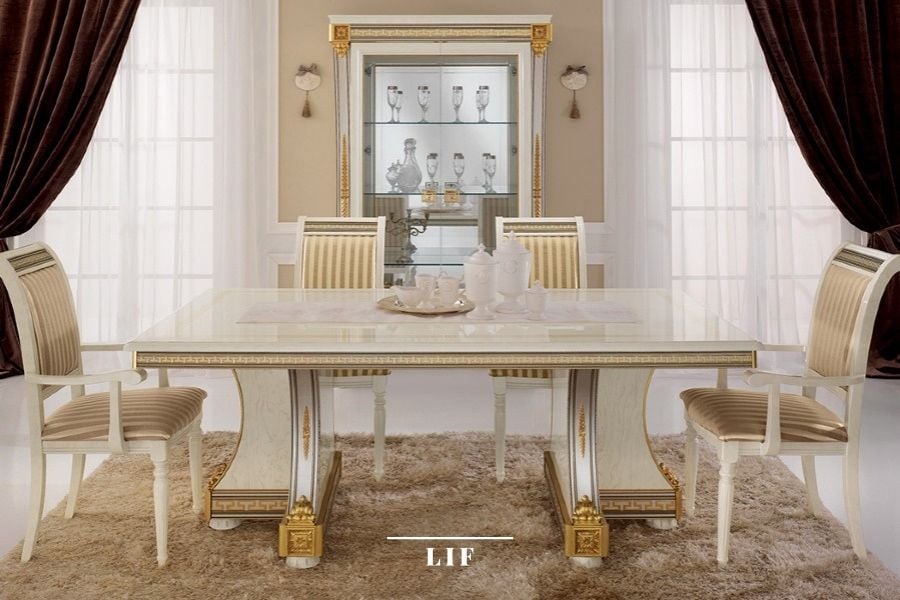 Classic style chairs: the real protagonists in your dining room
In this small guide we presented the main factors to consider when choosing classic-style chairs for your living room.
To meet the most demanding requirements, Arredoclassic offers a vast selection of fabrics to cover and personalize your seats. Every corner of your home should speak of you and your taste.
The solutions you opt for should in fact meet your aesthetic preferences and complete the dining set to perfection.
Follow our advice and make your choice!
By taking the above guidelines into account you will make the right choice for you and your environment.