In any dining room, a table is the undisputed protagonist. Whatever the size or type of home you may have and the room that will be used as a dining room, the table deserves your special attention.
Selecting a contemporary dining table is definitely the right choice. We'll explain why.
Many people still don't know what a contemporary style is and think it cannot blend into their home decor. Actually, this isn't true. Thanks to its versatility, functionality and objective elegance, the contemporary style easily adapts to any type of environment, enhancing it with its clean and innovative lines.
We should also like to point out the fact that very often the dining room is the most visible place in a flat or a large dwelling.
It's the space where we invite guests, where we spend time with them, organizing dinners and aperitifs. It's the space most open to the "public" and therefore it can be considered as our business card, in terms of design.
And which piece of furniture - among all the furnishings in a dining room - will attract your guests' attention the most, if not the table?
Isn't this the most prominent and central element of the dining room?
So, why not think of restyling your furniture starting from an aesthetically central element like your dining table?
In the following guide we aim to show you, step by step, how to choose a contemporary dining table, its main features and the design details that make it suitable for your new, contemporary style dining room.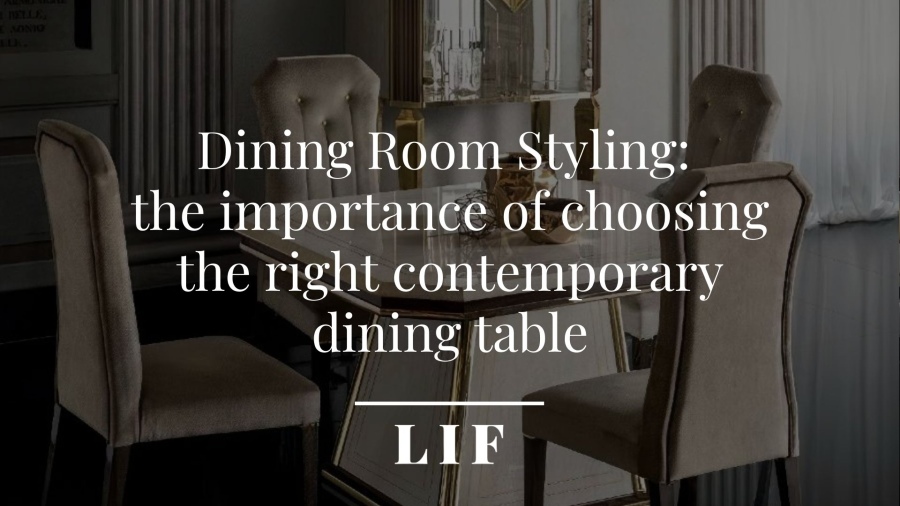 How to choose a dining table: the importance of size and spatial centrality
Before choosing the preferred model of a dining table, we need to take into consideration two essential aspects that mainly concern its assimilation and spatial arrangement within the home context.


1. What are the ideal dimensions of a contemporary table?
When furnishing a space, we must take into account some basic rules: first of all the choice of the size of a piece of furniture in relation to the space it will eventually occupy.
As already mentioned, the table must play an important role in the dining room.
Therefore, its size will also have to live up to the primary task that has been entrusted to it. However, this does not mean that it should be disproportionate to the rest of the room.
When choosing a table, always keep in mind the size of the plan of the room where it is going to be placed.
If you have a large dining room, choose a table that is quite long and solid.
Given the central role of this piece of furniture, you'll need to enhance it, taking care that it doesn't get lost in a setting that is too large.
The same is true if you have a small house: we suggest you choose a table that stands out for its shape and size in relation to the setting (clearly, without exceeding the proportions).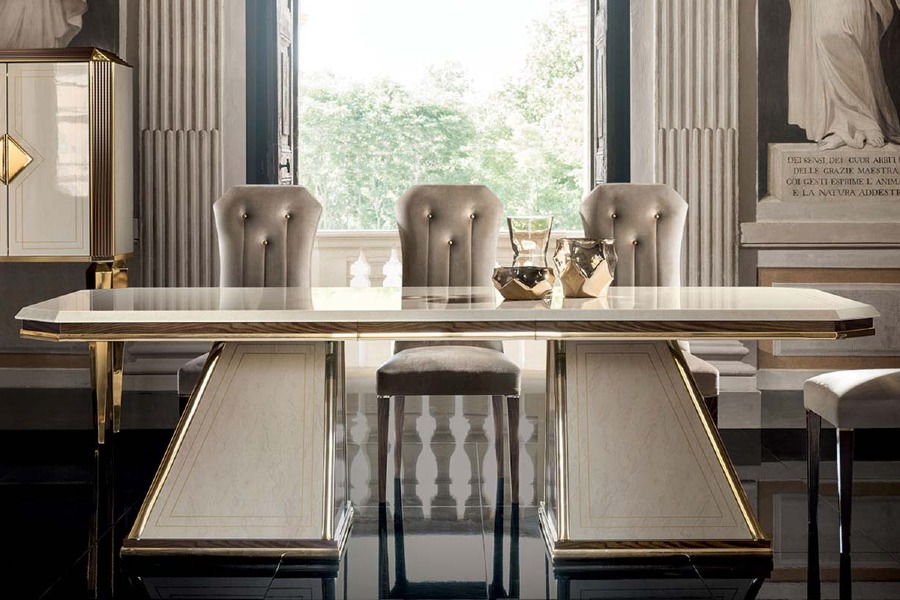 2. Where should the table be placed inside the dining room?
When choosing where to place a table in the dining room, we recommend you keep in mind - in addition to its proportions compared to the rest of the room - its functionality as well.
In fact, a table is a furnishing accessory that has both an aesthetic and practical importance. We use a table for lunch and dinner. The dining room is both a meeting place for the family and a room where we invite guests.
When placing a table inside the dining room, be sure to leave the right amount of empty space around it. It is far better to choose a smaller table that allows freedom of movement, rather than a large table, which may be aesthetically perfect - if taken as a single element - but unsuitable for the spatiality of your home.
Always remember that a decor's spatial proportions are not only a factor of practicality, but they also always have a very marked aesthetic implication.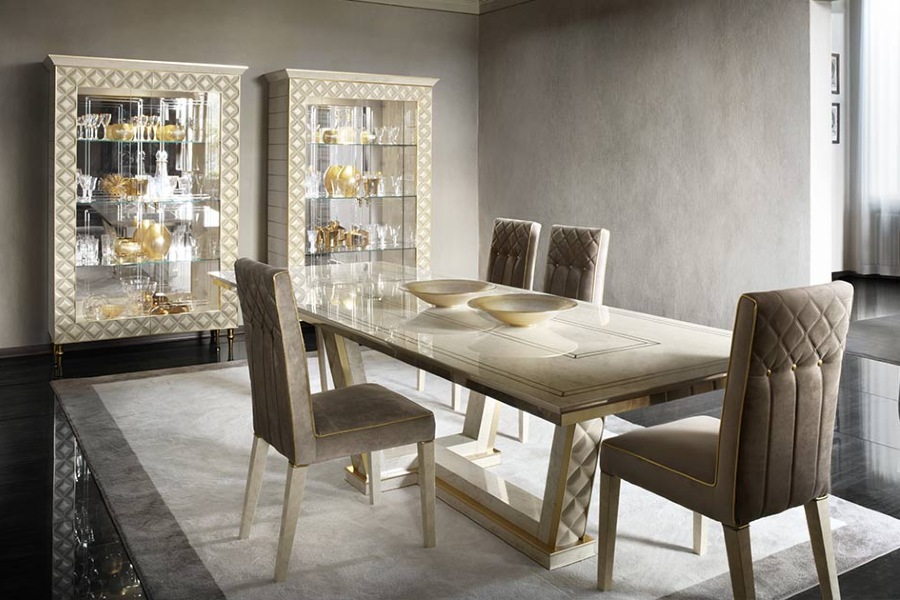 The contemporary dining table: style features
Now that you know how to place your table in the right space in your home, we can proceed to show you the contemporary dining table's main features, so that you can make the right choice for your dining room.
1. Contemporary dining table materials
Choosing a type of table means, above all, choosing the material. The materials of contemporary style tables are often functional to the creation of glossy and lacquered surfaces.
If you love elegance and glamour, for example, we suggest you choose a table with glass as a covering: it will give a chic touch to your living area and contribute to a greater diffusion of light.
2. Soft colours
From a colours point of view, you won't have any difficulty in matching the new table with the rest of the furniture. In fact, a contemporary table has a very discreet palette of colours that can be adapted to any space: cream, white, beige, black or grey and other soft, neutral colours.
3. Elegant finishes
Finishes are a must for furnishing accessories in perfect contemporary style; consistently discreet but important in the economy of the entire design.
You can choose a table that presents contrasts between the smooth, glossy surfaces of the top and the finishing elements (perhaps present on the contours and legs), in more opaque but decisive colours (for example, golden finishes).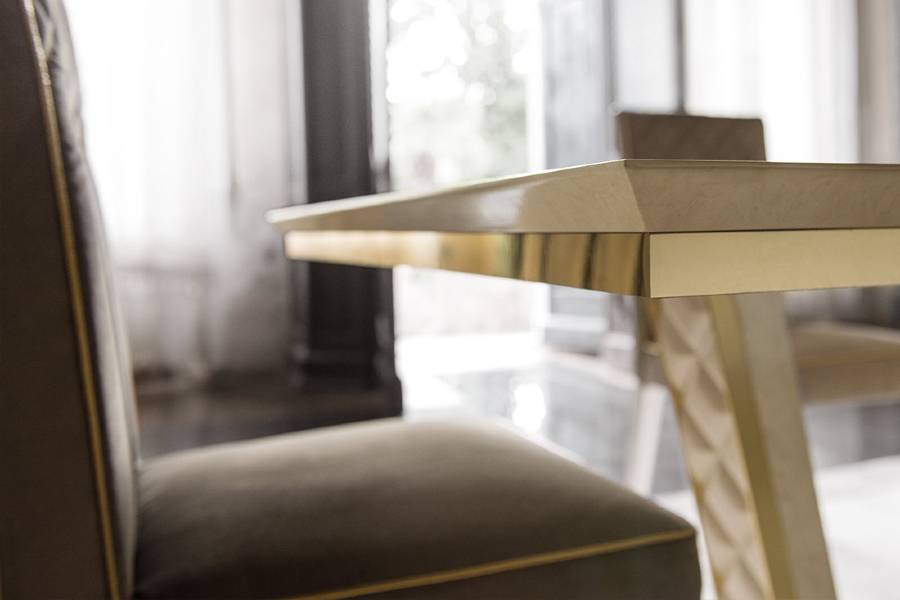 Why not reconsider all the decor keeping in mind a contemporary table?
Let's say you've fallen in love with a beautiful contemporary dining table that embodies all the features we've just described. Let's assume that you have placed it precisely in your dining room, complying with all the criterion required by a perfect interior design in contemporary style.
Perhaps, at this point - when looking at the beautiful table you've chosen - you may decide to revolutionize the entire furnishing of your home with a view to contemporary design. Why not?
Seeing how the new table is in perfect harmony with the rest of the house, you won't be able to resist the temptation to redesign the entire living area, and - why not?! – the sleeping area as well.
After all, contemporary style is synonymous with freshness and versatility. Now all you need to do is begin.