Laying out a traditional living room, understanding the scale of the italian classic furniture and its relationship to the room can help you create a very comfortable and functional space. This is an essential guide to deepen this topic.
The living room is the most "lived-in" room of the whole house and that in which we spend most time. On a purely functional level it is the least "specific" of the rooms (it does not have a precise function such as the kitchen or the bedroom), but at the same time it is that which generally gives most value to the entire home.
Not only because it is the place where we spend most time (watching TV, reading books, playing games and eating), but it is also that which most closely represents us to guests. When they knock at the door, you welcome and show them to the living room, generally on the sofa.
It couldn't be anything but the case, but we would be curious to see who would welcome guests to sit on the edge of the bathtub or on the linen chest, just citing a few extreme (and amusing) examples.
A people problem have is knowing how to arrange living room furniture. More often than not people want push a sofa against one wall, a couple of chairs against another and that's it. But arranging furniture is something that requires a little more planning.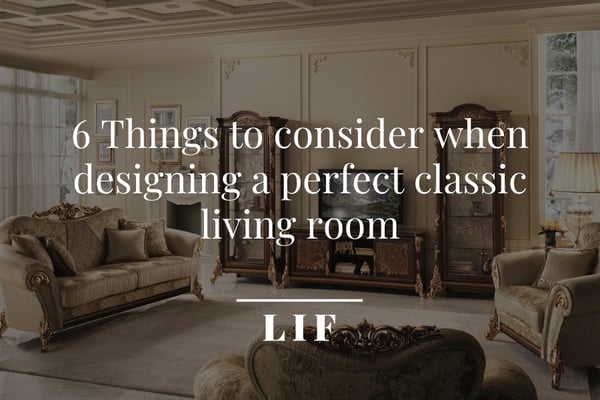 One of the most important things to consider when arranging traditional italian furniture in the living room is traffic flow.
People should not be tripping over furniture, or each other, to pass through the room. Make sure there are a couple feet (give or take a few inches) between the coffee table and sofa, and between chairs. Create a clear path so people can walk from one end of the room to the other without difficulty.
The living room, or the room in which we live
First of all we think the best examples of traditional decorating feels both formal and approachable. A living room is often the first room we decorate and the first room that clients show new guests during a tour.
A beautifully decorated living room both draws you in and compels you to stay. But because of the high stakes, making those big design choices can be a stressful proposition. The living room is thus of unequaled importance in the home and it comes as no surprise that it receives the most attention during the design phase.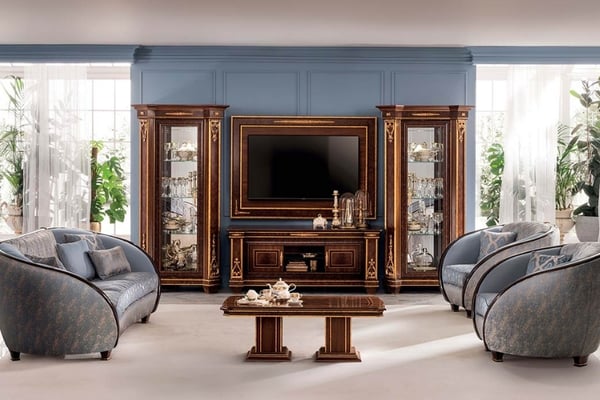 Create a great layout
When you decide to start to design the perfect living room (for you, your needs and tastes) you should be aware that the design does not concern just a single part of your domestic space, but that it is also the most notable "façade" of your home and the supreme space for family leisure.
For all these reasons, it is important to remember a number of steps in the planning phase. For a perfect traditional living room the first thing to consider is the available floor space and the pieces of furniture you'd like to include for your client. A good place to start is to make paper templates of the pieces of classic furniture you want to include and arrange them in place.
1. Starting to design the perfect living room: how to plan an elegant and timeless traditional home decor
Try not to start planning from a detail.
Too many people fall in love with complementary elements such as cushions, lamps, paintings or suchlike, around which they decide to "construct" the perfect living room, using these features as a yardstick for the choice of style.
It would be as if an architect plans an entire building based around the bathroom or a builder constructs placing the roof tiles together. It is not so much a rule but a matter of good sense: when it comes to designing the perfect living room the first step is planning.
Planning means asking yourself certain questions:
What activities and moments of the day will take place in the living room?
How should the space be developed and divided based on its use (sofa area, eating area, reading area)?
Where should the furniture be placed?
The location of the single elements is one of the most important factors because these create focal points, so it's not enough to place the sofa next to the wall or leave two seats and a table under the window.
In a classic or modern living room, never underestimate the power of a focal point. Whatever your focal point is, make a decision and stick with it. You'll want to arrange furniture around it as much as possible.
Planning helps to answer these questions, with the objective of developing a complete and ideal vision. The first thing to keep in mind is that you want the proportions of the furniture to coordinate with the proportions of the room.
These are some factors to consider that we will study below:
Never underestimate focal point

Create conversation areas

Consider traffic flow

Use the right size rug
Another factor to consider is this. Your room's focal point is where people's eyes will fall when they first walk into your room. In your living room space if you don't have a natural focal point like a large fireplace or mantle, create one with an oversized mirror, a piano or extra large artwork.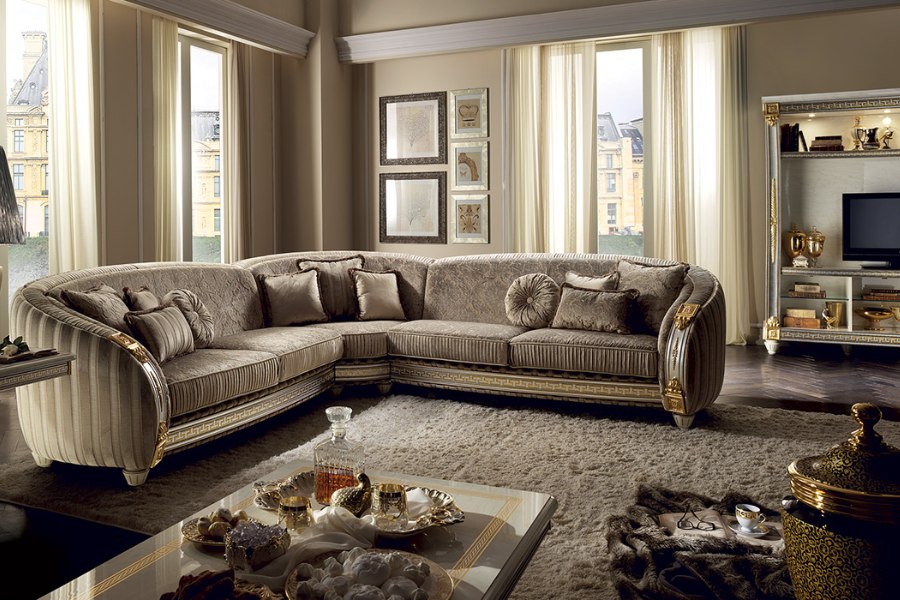 At this point whether you're starting from scratch or updating a space you've lived in for years, it's important to take stock of what furniture you need and be brutally honest about whether it works for the space.
For a living room traditional furniture is an expansive category that includes a wide range of decorating styles but the most important is the italian classic furniture.

2. The linchpin of the living room: the sofa
An important point is that the classic furniture can create a strong confortable conversation areas.
With this home decor people should be able to comfortably talk to each other without straining their necks or shouting.
Sofa for this reason is a particular element, in the living room that is able to delineate and function as a linchpin for all the other pieces of furnishing. Sofa and chairs are often the big-ticket items so it's important that they suit the space. The most important thing to do is measure the space before buying any of these pieces.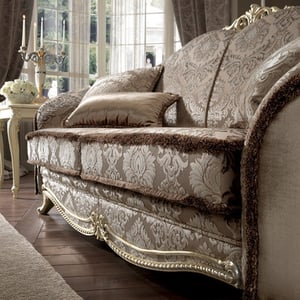 The sofa is the supreme furnishing piece, the king of the living room.
Functional in terms of the entire room, it not only radically changes the look but also dictates the line.
You must not scrimp when it comes to the sofa: quality, comfort and resistance over time are essential features at (almost) any cost. You don't want them to be too big or too small, so it's best if you draw up a floor plan ahead of time. Sketch out the room using all the appropriate measurements. Try putting the sofa and chairs in a few different spots and see what works best visually and in terms of leaving space to accommodate traffic flow.
When you decide to start to design your perfect living room think straight away about the central role of your sofa. Think about how you will combine the rest of the furnishing and vice-versa, obviously not overlooking comfort.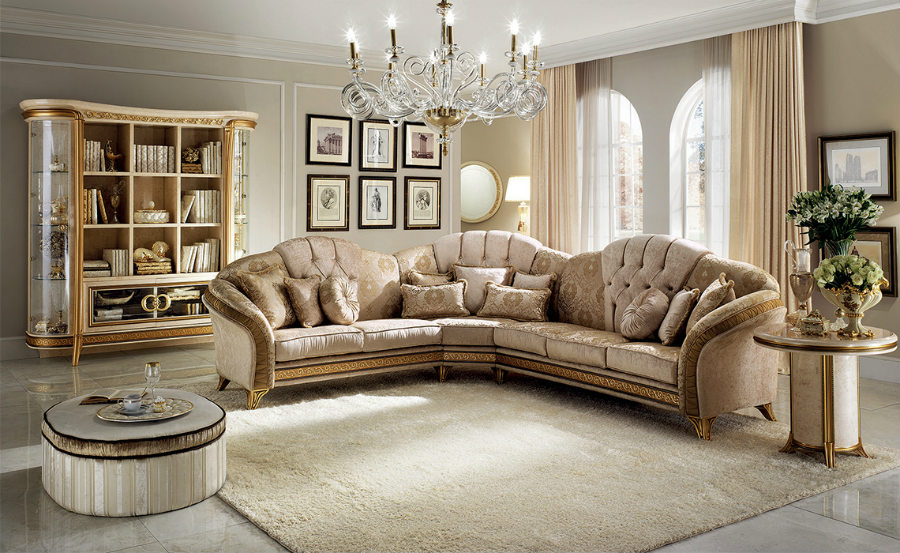 3. A key factor: lighting
Lighting is a "macro-structure" in the economy of design of a living room as it is for the entire home. A priority aspect that you should consider from the outset to understand how to make the most of small and large spaces, highlight colours and how to experiment with mirrors and materials that can reflect light.
Vary the types of lighting in the room
There should be lighting for reading, TV watching, and parties. Avoid the single light fixture overhead. Getting your living room lighting just right can be a challenge, but it can also pull the whole look together. We suggest a combination of various sorts of lighting, that includes overhead (though a living space with an abundance of natural light may not need this).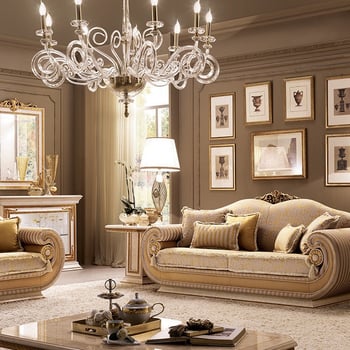 Once you've decided what you need, you can then focus on finding light sources that blend with your classic or modern decor scheme.
Other tricks to make the room feel light and airy are to allow natural light to bounce around the room with mirrors placed opposite the windows, and opting for a simple colour scheme in neutral tones, and plain rather than patterned fabrics.
Don't keep 'em in the dark
In the design phase, you must therefore think about what light source is suitable to the rooms: large and central or small and scattered in predefined areas. It always depends on your aesthetic requirements, based on how you wish to arrange the entire furnishing and that which are the most illuminating features: or how to enhance the beauty of the living room through natural and artificial light.
Make certain every seat has access to light and a table. Every person can then read and have coffee in comfort.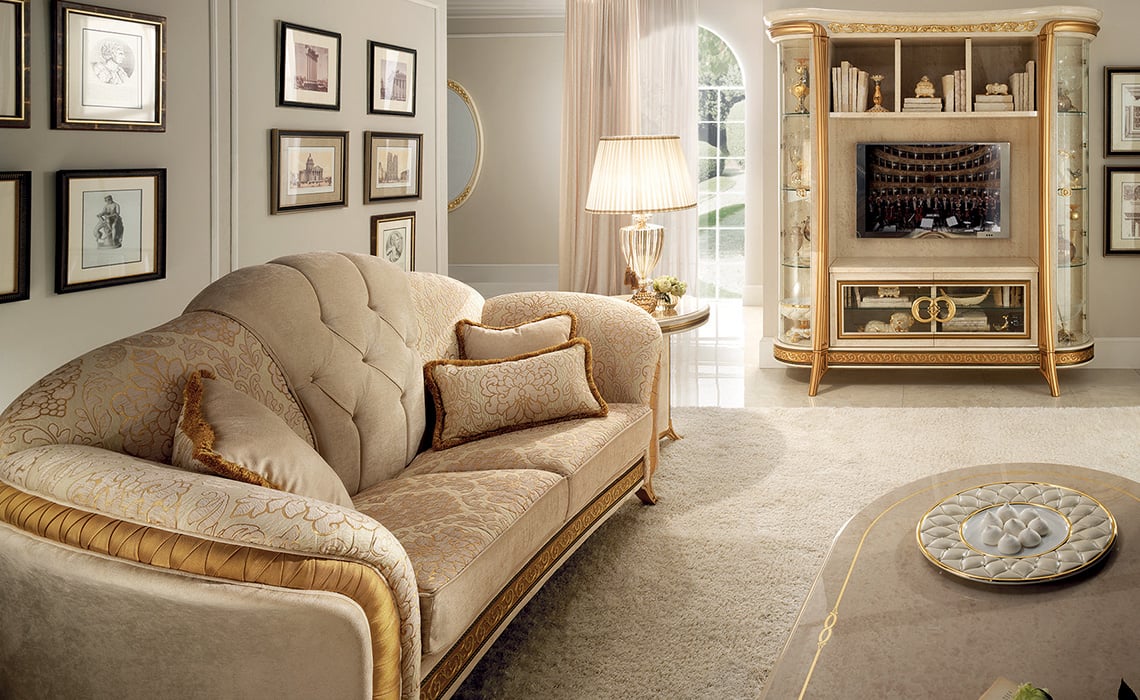 ---
Do you want to know more about classic interior design world?
---
4. How to define the room with rugs
Rugs is a mixed blessing for the designer.
It can be exploited for its intrinsic capacity to "define an area" of the room but it can also ruin an entire space if badly used.
Apart from questions of taste, who likes them and who don't (perhaps because of allergies), carpets can dominate the living room, conferring different personalities if chosen in the right size (and of course well combined with the rest of the furnishing).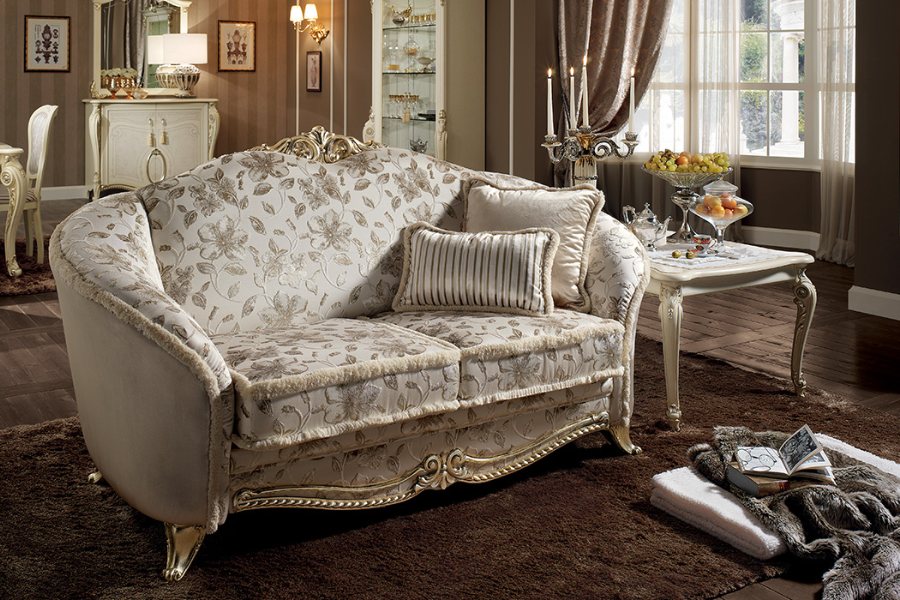 Their main quality is their capacity to define different areas in the same room. A classic example: positioned under the dining table and the chairs to highlight the eating area compared to the rest of the room.
Do make sure that all the pieces of classic or modern furniture fit on the rug.
Ideally, all four legs of major pieces should be on it, but if this simply isn't possible make sure to fit at least the front legs on the rug (the back legs can be off). But all the legs of smaller pieces should be on the rug whenever possible.
5. Reflect personality: accessories and art
Give free reign to imagination and your "aesthetic" side. The living room is that which is best suited to customisation and in general to reflect that which makes up your character. You could opt for a wall bookcase if you are a book lover, or cover every centimetre of the wall with art (even if not advisable as decidedly heavy on the eye).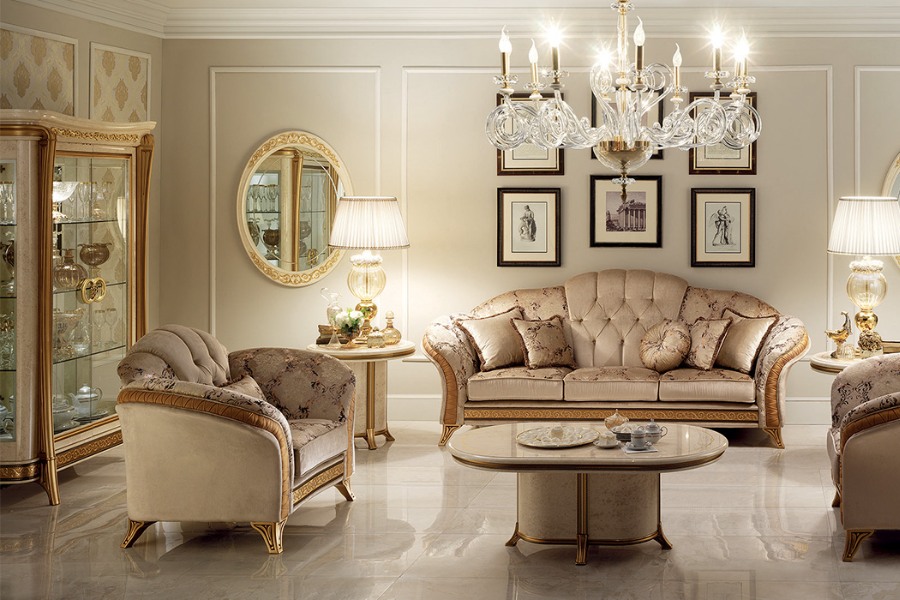 Do choose your most expensive or favorite item and decorate around it
Accessories, artistic objects and furnishings are elements that differentiate and inspire. Given that the living room is the most lived-in part of the home, it is also worth defining these apparently corollary aspects to create a space in which you are even more at home, in complete comfort.
Add striking accessories to your room. Smaller accessories look better in groups, but avoid bringing in too much. There is a fine line between accessorizing and "clutter-izing" the room.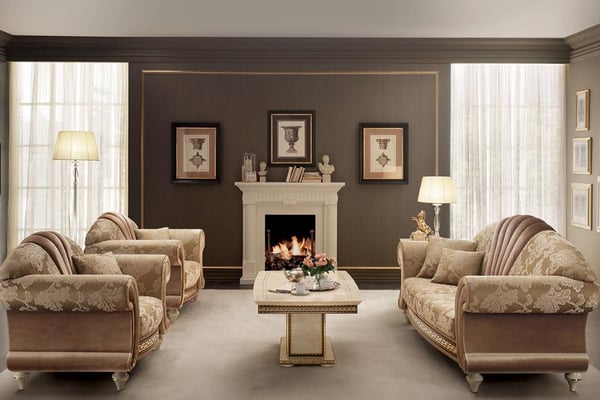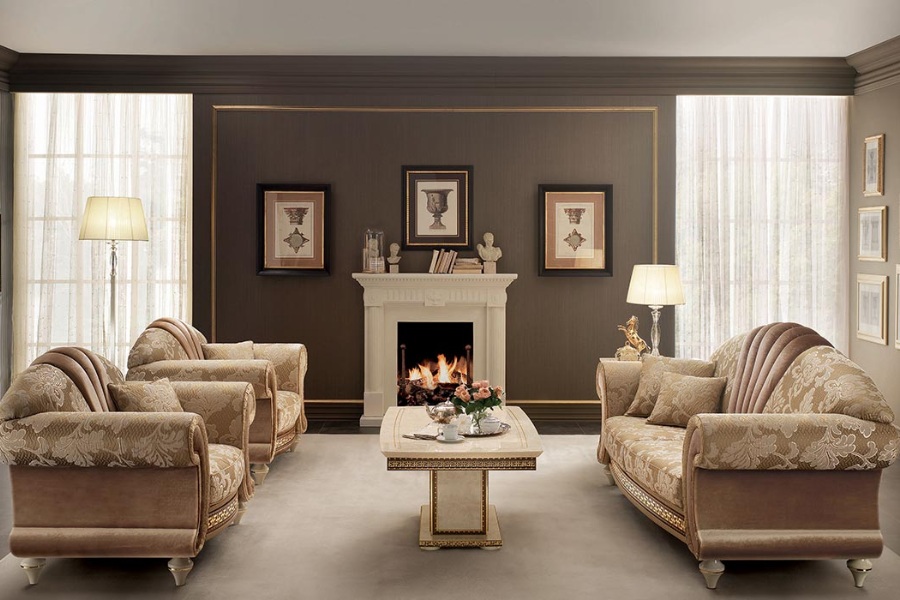 6. Every object has a purpose
The last aspect that you must acknowledge before starting to design the perfect living room relates to the functionality of every element inside it. The golden rule in that every item has a purpose (and so a place). Then a better solution is to use architectural details, as well as furnishings, to delineate a space. Room dividers, columns, and floor elevations can all serve to define a room.
It is not just about order or disorder, that is important nonetheless, but concerns the very essence of the objects in your living room and so the functional, aesthetic and emotional value that they hold.
Test out some different looks and see what looks best and what works for your client. Just make sure to pass to our technical support all the appropriate measurements so you don't face any unwelcome surprises when you actually put the furniture in the room.