Your living room is a place where comfort and a friendly atmosphere play a central role, along with aesthetics. This is why, in this furnishing scenario, elements like sofas and armchairs are a must.
Thanks to these items, enjoying precious relaxing moments, hugged by a soft sofa, or receiving your guests on comfortable and welcoming armchairs becomes an exclusive experience.
In this article, we will go over the technical-aesthetic aspects that characterize a contemporary sofa, and we will show you the Diamante Collection models.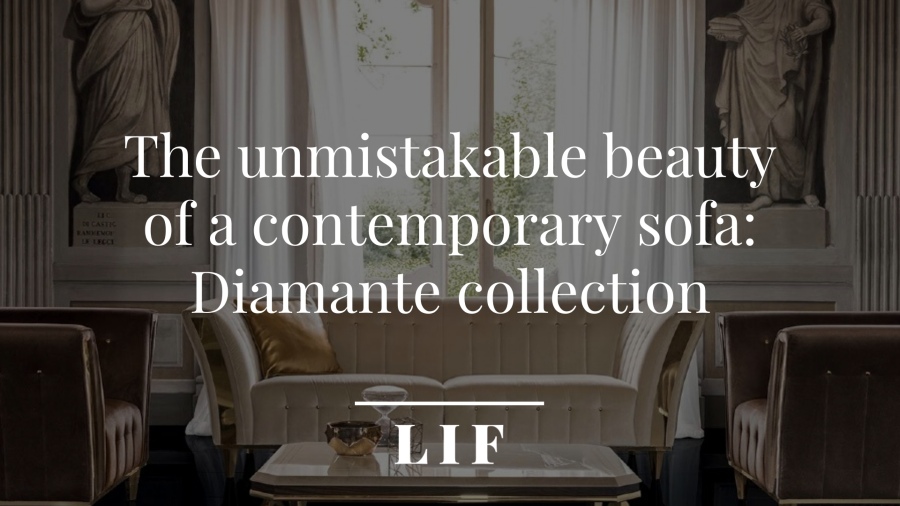 Top 5 characteristics to prove the beauty of a contemporary sofa
A contemporary furnishing style refers to current trends, as opposed to a more traditional design with an old-time charm, although timeless and widely appreciated.
In order to understand the factors that distinguish a contemporary aesthetic from a classic style - in this case referred to sofas and couches - here are the main features of this look:
Let's go over each point in detail.

1. Classy and dynamic design
Comfort and style : this is the technical-aesthetic duo reflected by contemporary interior design.
What makes a contemporary sofa fascinating and comfortable is its elegant and dynamic design.
This ambivalence is aimed at improving the sofa's comfort, and, at the same time, making it an element with a great decorative potential, to complete the living room layout.

2. Simple and clean lines
Contemporary design in seats and sofas requiressimple and clean lines, focused on their comfort and aesthetics.
Contemporary homes are often minimal: the furniture looks light, agile and visually captivating, while maintaining a modest and serious appearance.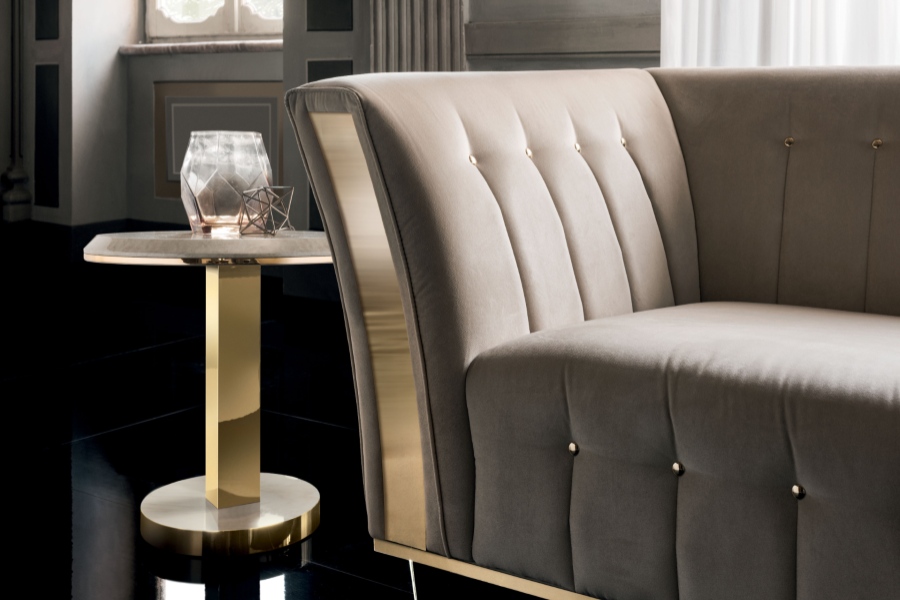 3. Comfortable seats and sofas, with bold outlines
Contemporary seats and sofas feature bare rectangular/square shapes, and a simple profile, outlined by bold and square profiles, mixed with soft curves, to ensure the maximum comfort.
This kind of sofa is generally characterized by a raised base with metal or golden finish legs - depending on the end costumer's taste - without any decorative excess.

4. Sturdy natural materials and fine fabrics
Contemporary seats are often made with strong and long-lasting materials (for the frame), and customized with precious details and alluring upholstering.
Specifically, they feature golden or silver buttons on the vertical seam lines, diamond-pattern or button-tufted upholstering (with a great classic appeal reinterpreted in a contemporary fashion) and fine fabrics with different colours and patterns, such as:

Velvet
Smooth and soothing fabric to encompass all your senses. Apart from making the seat look richer and finer, it is eye-catching, thanks to its iridescent reflections and intense hues.

Wool
and linen
Natural materials that make the seats look serious and elegant, as well as light and warm.

Cotton
Natural high-quality fabric, fresh and soft to the touch. The most prized is the Sea Island cotton, with long silky fibres, used in the finer workmanship.
Available in solid colours and patterns, cotton is stylistically versatile, elegant and essential.

Satin
Satin sparkles with sophisticated brightness and alluring reflections. This fabric has an even weave, and it is extremely bright and smooth.
Available both in solid colours and with fine patterns and embroideries, it is ideal for any interior design concept: from classic style to contemporary interiors.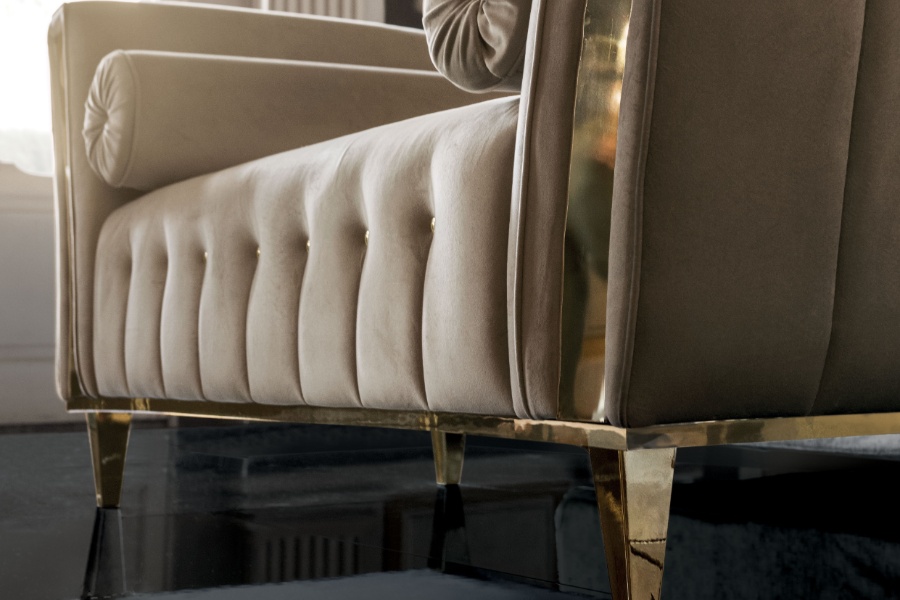 5. Neutral colour palette and strong hues
Contemporary furniture requires the use of simple colours , such as grey, beige, ivory and light brown, paired with brighter hues, such as blue, purple or dark green, to give a touch of colour to your fine and captivating interiors.
The Adora brand can count on a wide range of fabrics, customizable based on our customers' needs: choose the fabric that inspires you the most, based on its texture and colour, and customize your sofa.


Guaranteed style and comfort in your living room
The Diamante Collection sofas are light and agile-looking, thanks to their streamlined profile, enhanced by the vertical seams along the backrest, seat and armrests, decorated by golden buttons.
The precious golden polished metal plates , paired with the soft customizable velvets, give the entire seat an extremely graceful and elegant look, creating a special chemistry between comfort and design.
And the golden cushions move and make the layout lighter, adding a touch of glamour.


The unmistakable beauty of the Diamante Collection sofa
In this article, we showed you in detail the characteristics that highlight the unique beauty of a contemporary sofa.
An essential element in the living area , capable of giving a fine look to your room, and ensure a welcome and comfortable place, cuddling you at any time of the day.