Our home can always use some revamping. It's just like our closet: there is always something to reassess and re-evaluate, to create a constantly new and cool image of ourselves.
And our home reflects our image and our personality too. Just like our wardrobe, our home needs to be rearranged, cared for, and updated.
Those who love their home and want to live in an environment that is part of them - just like an extension of their personality and essence - know that they have to choose their furnishings very carefully. Keeping up with interior design trends is essential, if we want our furniture to be on the leading edge and stylish.
This is why you should never stop furnishing your home. The new 2020 interior design trends are just waiting for you to start considering renewing your furniture, perhaps by starting small, and then be conquered by the amazing environments of new contemporary design.
If you are interested and you want to know more about 2020 contemporary design, here are the main interior design news.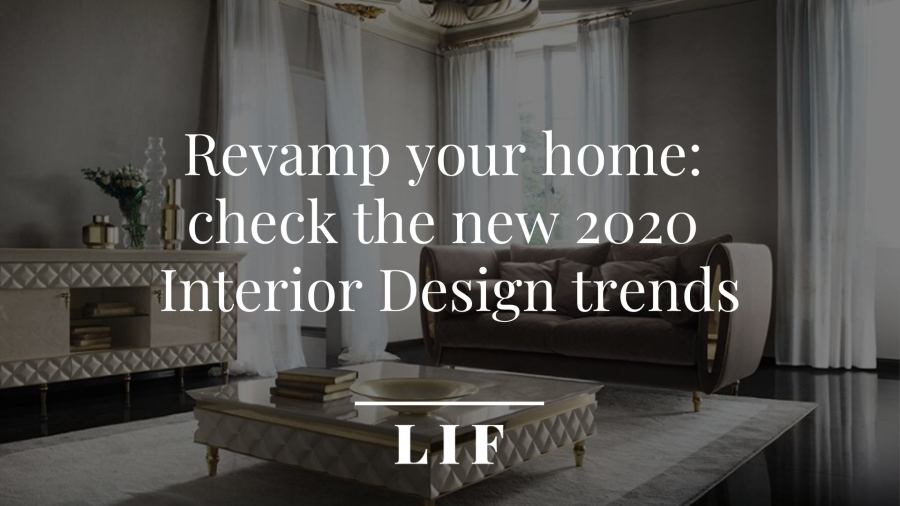 Renovate your home with the new interior design trends: restyling in 3 simple steps
Let's go from theory to practice right away. When it comes to new interior design trends, time is the essence and keeping up is important.
Here are some of the main aspects that characterize the architectural creation of an environment and its design. For each one of these aspects, we will review the new furnishing ideas for 2020, so that you can make your choice, inspired by our suggestions.
Are you ready? Here we go.
1. Furniture: go for curved profiles
In 2019, we had already seen curved profile as a must in the new contemporary interiors trend. 2020 confirms this choice, by pushing even more on the imitation of nature, and reproducing it with soft, curvy, asymmetrical profiles, inspired by a more natural design.
This very classy and wild trend must be expertly mixed with more linear profiles. And so, even the old straight furniture profiles will be welcomed in the new contemporary style.
If you are thinking about renewing your interior design with new furniture, opt for elements inspired by this style, and mix linear surfaces with curvier and more sinuous parts.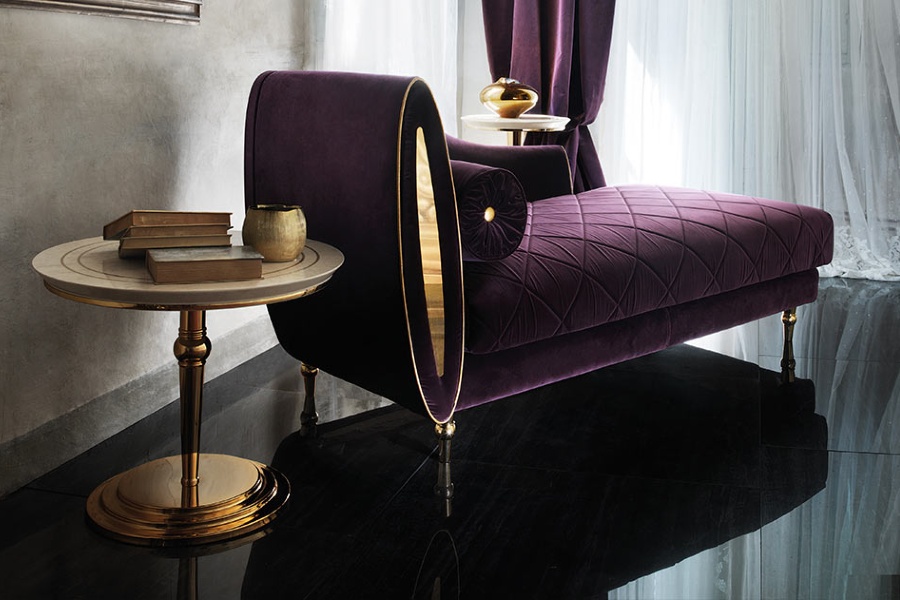 2. Materials: opt for natural materials
The trend to use natural materials for interior design is still on in 2020. Natural wood, metal and stone will still be the star in stylish homes.
Of course, the goal is to make the room atmosphere more natural, and also give a marked textural effect that attracts attention.

Metal
Concerning metals, the star is still copper, even though golden or silver finishes are always appreciated, along, of course, with raw metal, perhaps blacked up, inspired by the industrial style. If you choose furnishing elements with metal finishes, remember to avoid mixing too many different metals. The impact would be too confusing, and it would make your room less harmonious.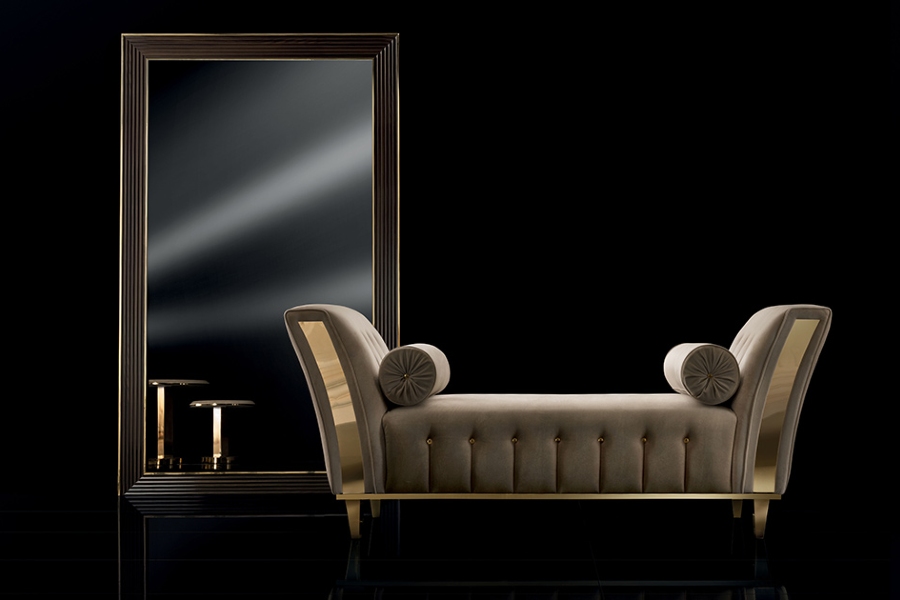 Wood
Wood has been the protagonist of interior design for many years, now. If expertly paired with other materials (such as stone or metal), it can make a room more charming and delicate.
In particular, wood helps make the room warmer. And creating warm rooms - rather than cold ones - is the new 2020 trend. So, you can opt for furnishing elements with wooden parts, to make your room more comfortable and natural-looking.

Stone
If you are trying to obtain a certain textured impact in a room, natural stone is surely the best choice.
For instance, the timeless beauty of marble, with its streaks and grandeur, makes the room more classy and bold.



New natural materials
2020 brings along new interior design materials. Natural fibres, such as bamboo, straw (Vienna's straw is very popular) and raffia - normally used outdoors - move into the home.
Generally, these materials are added as decorative elements, alongside the main choices made for furniture.


3. New geometric and nature-inspired walls
Walls are very important to create the right atmosphere. The new 2020 trends go in two seemingly opposing yet complementary directions.
For instance, geometric patterns are very much appreciated by 2020 designers, and they can also be applied on walls, with wallpaper or with decorative mosaic in the bathroom.
Geometric patterns inspire also other home accessories, such as curtains, cushions and other fabrics that can give that extra touch to your room.
And natural elements will also be resumed on the walls, primarily in the colour chosen (mostly neutral and warm) and then in wallpapers featuring floral patterns or green plants, to recreate a wild and uncharted nature.
In this sense, some architectural experimentations use large walls completely covered in plants, to turn the interior into a striking urban natural corner.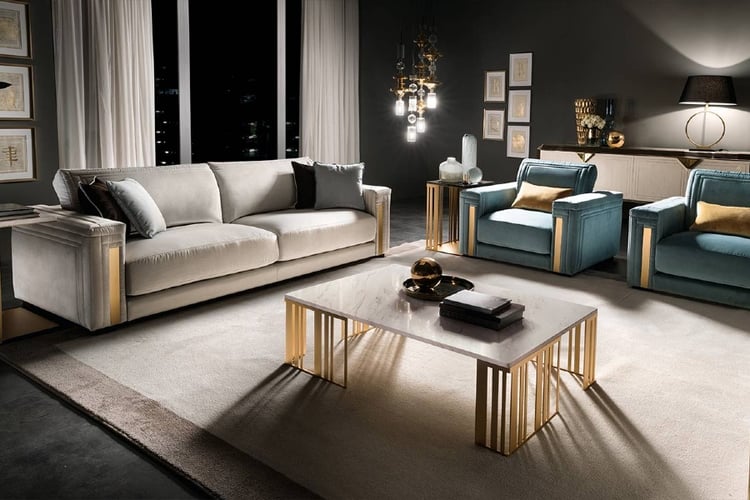 2020 contemporary style: the charm of velvet
Another news in 2020 interior design trends is surely the comeback of velvet as THE fabric to renovate your rooms.
Velvet is used to upholstered couches and armchairs, thanks to a wide range of contemporary bright colours, such as blue and green hues.
Velvet is classy and comfortable and it will give that hint of renovation you needed.