When you purchase a new home or decide to renovate you may find that your ideas just start galloping away.
You have wonderful, innovative and unique thoughts but they are often an end in themselves and not able to adapt in a balanced and harmonious manner and can't create a ideal space for you and your family.
The positioning of the furniture, the choice of colours, decoration and insertion of the accessories: each of these elements must come together in an ordered and congruous manner from a stylistic point of view. Furnishing a home is a job in the strictest sense of the term as it requires the highest level of dedication, respect for deadlines and a complete vision. It must also completely reflect you and your personal tastes, embodying the best aspect of your personality.
Furnishing in a classic style, as for few other more delineated styles, demands extra attention that goes beyond the simple union of furniture and accessories.
Its originality perceived as "stylistic purity" that can be reinterpreted in a more modern manner, is based on quality materials, the harmonic arrangement of space, generally tenuous colours and references to ancient splendour through sophisticated decorative elements.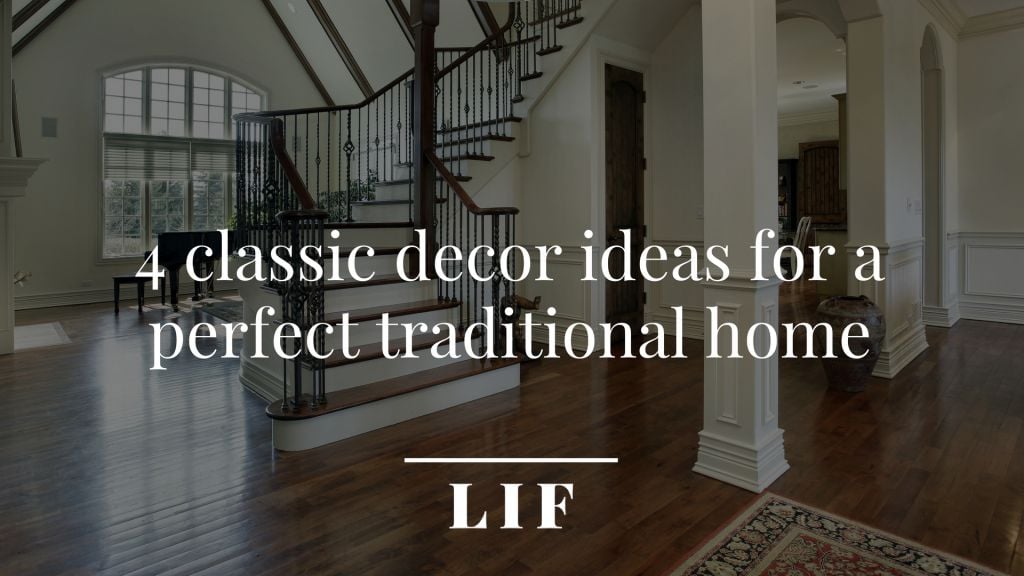 Let's have a look together at some classic decor ideas so that you can create an elegant and yet comfortable space, generating a synergy between your personality and classic taste.
First come ideas, good practices for furnishing
Furnishing the interior of a home involves a type of union between the heart and the head. For this reason, before illustrating our classic decor ideas we would like to consider 3 "modus operandi".
Compatibility, simplicity and proportion

: in general the most pure beauty generally reigns, without useless ostentation and yet rich in personality. Your approach to the classical style must follow this type of golden rule, that also apply to the precepts for proportion and compatibility.

Less impulse and more reasoning: do not immediately embrace that which fascinates you on first sight. Sit down, analyse and imagine (or design) the room that you wish to create and which which central feature. Each object has its reason for existence.
For you and others: the interiors of your home must reflect your personality but must also be welcoming for those who come to visit, friends or whoever! The idea is not to create a sense of discomfort in your visitors; the comfort that you offer should be a type of "universal" value.
Our 4 classic decor ideas
By way of introduction: we hope to illustrate proposals that are somewhat removed from the most basic interior design ideas, such as materials for furniture, furnishings, etc. So we won't discuss the importance of marble and hardwood, the elegance of accessories or the role of elegant lighting.
Put aside for one moment (not because they aren't important) the showcases of the classic lines with silver and porcelain, bedrooms with a solemn feel or the many other elements for which we suggest you read the article "5 reasons to love a classic interior design style". Let's look at something else.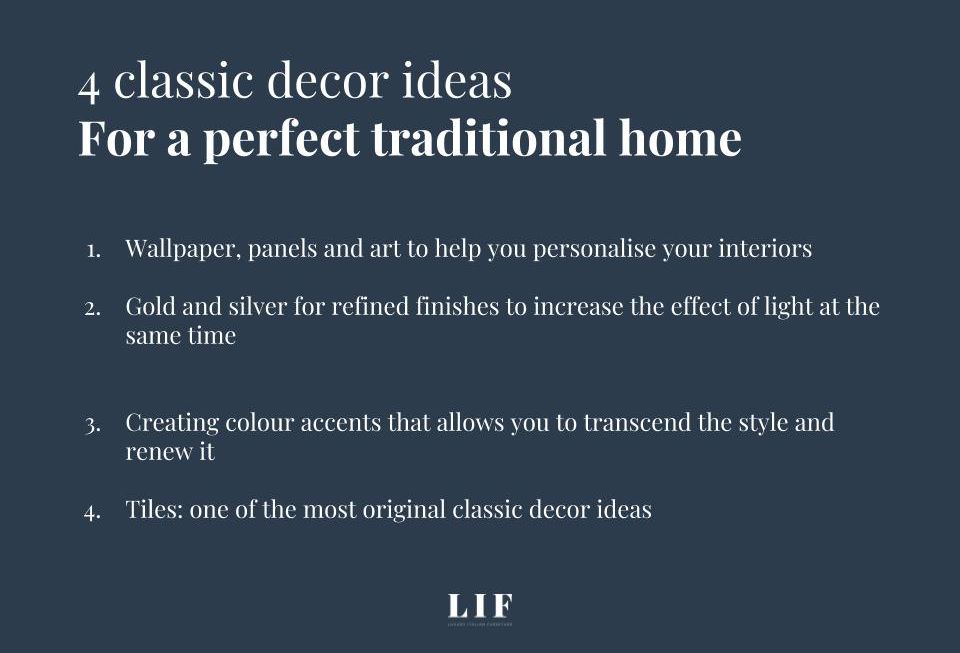 1. Wallpaper, panels and art: wall furnishing
The walls are the backbone of the home and in the designer's vision they are an excellent base in helping you personalise your interiors.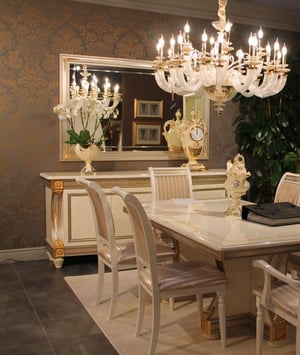 Wallpaper is a decorative element that has returned to favour only in recent years. You can cover an entire room, just one side or a part of the same. The wide range of patterns available make it extremely versatile and thanks to special materials that are resistant to damp and heat it can also be used in bathroom and kitchens.
Paintings are perhaps the most obvious element to decorate a wall but they must also be compatible and in keeping with that which surrounds them: a Manet print is somewhat out of place in a modern living room. You should also pay attention to the type of frame use, the visual connection between the image and the rest of the room.
2. Gold and silver for refined finishes
The elegance of a classic interior is by nature based on decorative finishes that bestow a rich and luxurious atmosphere.
Even minimal use (essentialist) of gold and silver to highlight the lines of furnishing and moulding can create notable sophistication and discretion.
Apart from making your home more vivacious, you will have increased the effect of light at the same time.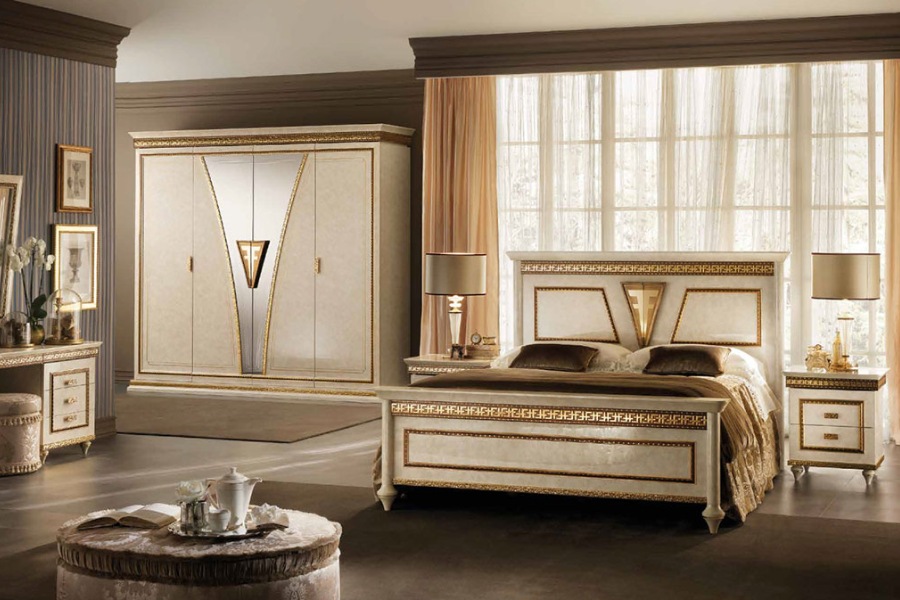 3. Creating colour accents
The timeless look of a classic interior may require a touch-up after years of living in the space. We should stress again that the style in itself demands a generally tenuous or neutral colour scheme, one that does not visually drown the luxury and characteristic elegance of the furnishing.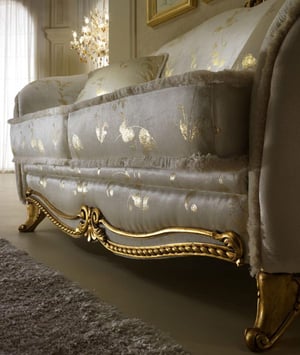 Yet even in this refined space you can create colour accents that allows you to transcend the style and renew it to some degree. Very little is required: a blue chaise longue, a selection of dark green cushions or curtains and linen that are differently coloured.
We suggest that you do not seek to create contrasts, but to highlight the furnishing with different tones in the context of a chromatic scheme that tends towards the uniform.
4. Tiles
Often rejected as they are considered too vintage or because they are reminiscent of grandmother's old bathroom, tiles can be considered one of the most original classic decor ideas.
A part of their value is derived from their versatility, they need to venture outside of the bathroom (for example in covering the tub), in the kitchen (stove area) and for flooring. They are a multi-functional covering: they can cover the fireplace in the living room or frame the bed head. You should of course choose ones that have a pattern or design that is congruous and so ideal for the classic style.