Classic style tells a timeless story, immune to fashions that come and go.
The great classics of literature, music and classical dance bear witness to the fact that classicism is the basis for everything, the starting point for imagining new scenarios and contaminations.
Maestro Giovanni Allevi speaks of classical music as something that renews itself from within and that, while maintaining its own logic and formal structures, always returns to create identity and value in society, regardless of evolutions and changes.
For the Italian writer Italo Calvino a classic is a book that tells you what it has to say even before it is finished'.
Also in Interior Design classicism is a precious value, a quid of history, tradition and elegance that disregards the trends of the moment and rises to an ethereal, timeless dimension with no space-time boundaries.
Furnishing a house is an art to all intents and purposes, and it is precisely in the classic style that we can identify the introduction for any subsequent choices.
Like a forma mentis that characterises the basic structure of any furnishing style, classicism lays the foundations and then leaves room for creativity and mixing with other flavours, influences and stylistic connotations.
Luxury classic furniture: timeless style and class
How do you furnish a classic living room? How to choose the colours of the classic sofa? How can the classic design of a sofa with soft, sinuous forms communicate with the minimalist and square "intrusions" of contemporary trends?
These are just some of the questions we ask ourselves when designing the look of a room.
Here again, an analogy with the artistic expressions of music, literature and painting comes to our aid.
When we furnish and 'dress' a room we are basically creating a work of art. No more, no less.
Colours, shapes and lines fill the empty space of a room as notes follow one another on a score, words on a page, images on a canvas.
It's all a game of contrasts and combinations, proportions and volumes, alternating light and shadow, voids and solids, cross-inspirations and eye-catching details.
The end result will be a 'birth': something that was not there before and is now suddenly there, living, breathing, existing.
Like a work of art, a musical melody, an inspired text, the house will show itself in its truest, classical essence, free from the stylistic eras and trends.
Classic sofa colours: 4 ideas to enhance your classic living room
When designing the living room we cannot overlook the importance of colours for classic interior design.
The secret lies in finding the right balance between the colour choices for the fabrics of the sofa (a central piece of furniture in terms of comfort and conviviality), the palette of walls/coverings and the typical shades of classic Made in Italy furniture which refer directly to the various types of wood and finishes in gold, copper, marble, silver, bronze and brass.
Among the colours for classic sofas, there are some that are always up-to-date and versatile, and that adapt to any context, giving charm and appeal.
Others create a new point of view, seemingly "out of context", which instead breaks into the ethereal beauty of classic luxury furniture to enhance it through specially designed contrasts.
For the classic sofa we have selected 4 sophisticated colour points that can fit into a refined and elegant living room such as the Italian Classic, Empire, Art Nouveau, Neoclassical and Art Deco styles.
Choose the atmosphere that suits you best and start designing your work of art!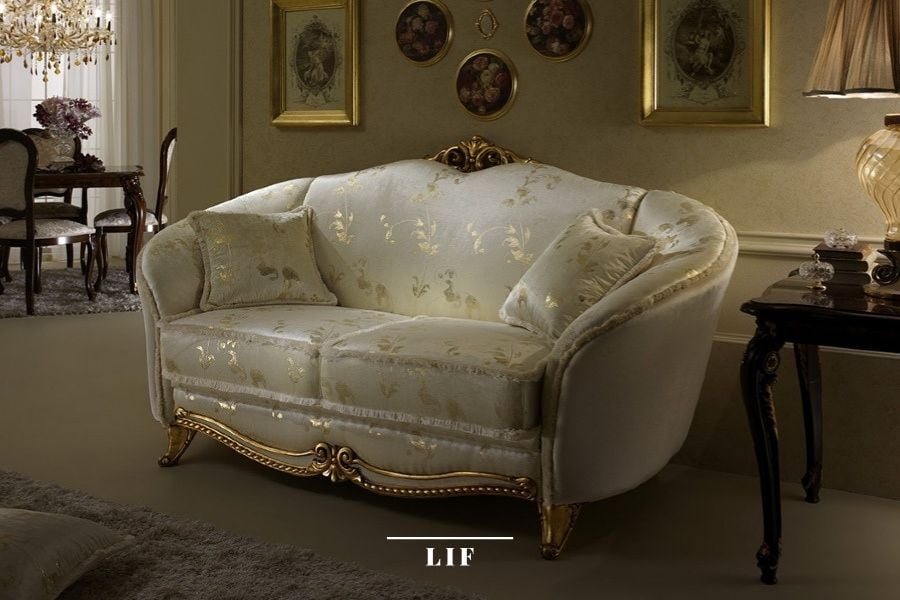 1. Ivory and rose gold for a living room with a fairytale mood
The lighter and more neutral they are, the more they can illuminate, embellish and give class to the room.
Choosing elegant shades such as ivory and rose gold for an Art Deco living room is to create a sophisticated stylistic assonance with the 'dolce vita' atmosphere that already exists naturally in a furnishing style characterised by luxurious details, shiny surfaces and precious finishes.
The setting is a fairytale one: imagine, centre stage, a curved sofa dressed in precious ivory-coloured fabrics, embellished with pleated backrests and armrests and concentric frames in a rose gold finish that recall the decorations on the seat.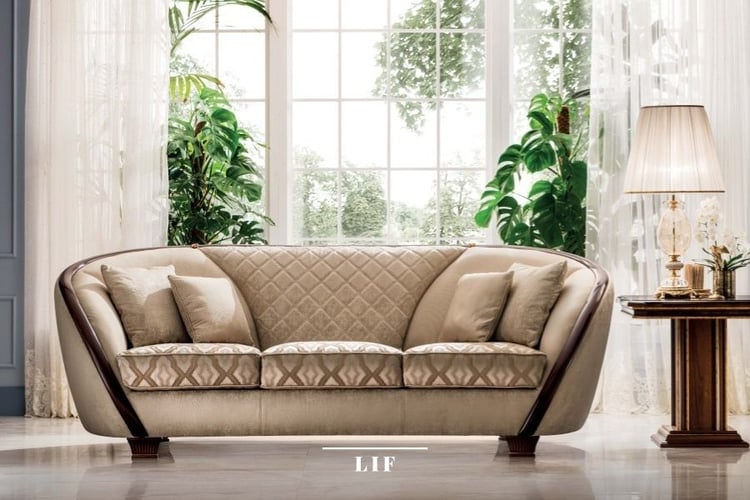 2. Beige and its derivatives: warming and enriching neutrals
The light and warm colours (cream, beige, ecru) are the ones that go best with the with the finishes of classic luxury furniture - gold, rose gold, copper - and with with the clean, crystal-clear light of a Liberty-style living room.
The classic sofa colours that best match the shiny, sparkling surfaces of the Liberty living room are those on the beige scale.
A sofa in a neutral but not aseptic shade succeeds, in fact, in matching a regal and luminous overall vision, while at the same time managing to warm up the monumentality of the furnishings, inspired by the ancient friezes of Greek and Roman architecture.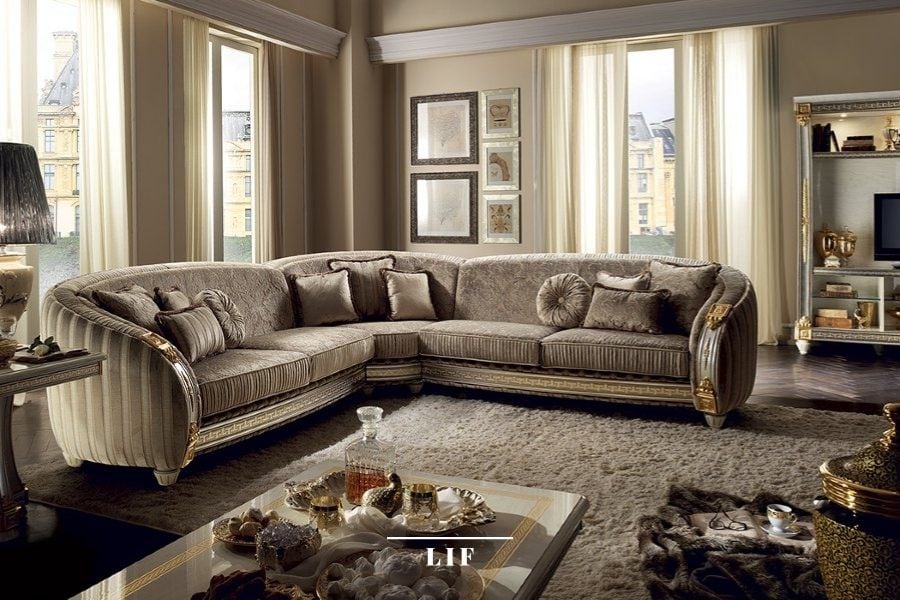 3. Grey and touches of blue: masculine colours for feminine lines
Where does a classic sofa in dark or medium-dark fabric look good?
A sofa in grey, black or blue tends to furnish any context with class and elegance.
In bright, light-flooded rooms, it creates depth and breaks up the chromatic uniformity a classic living room dominated by dark wood furnishings and gold finishes aligns with the (strong) personality of the overall view.
In both cases, a classic sofa in a decisive, "masculine" colour scheme finds its stylistic completeness in a feminine design with graceful, soft and sinuous lines, but also in the refinement of precious fabrics that play with different textures, consistencies and inserts.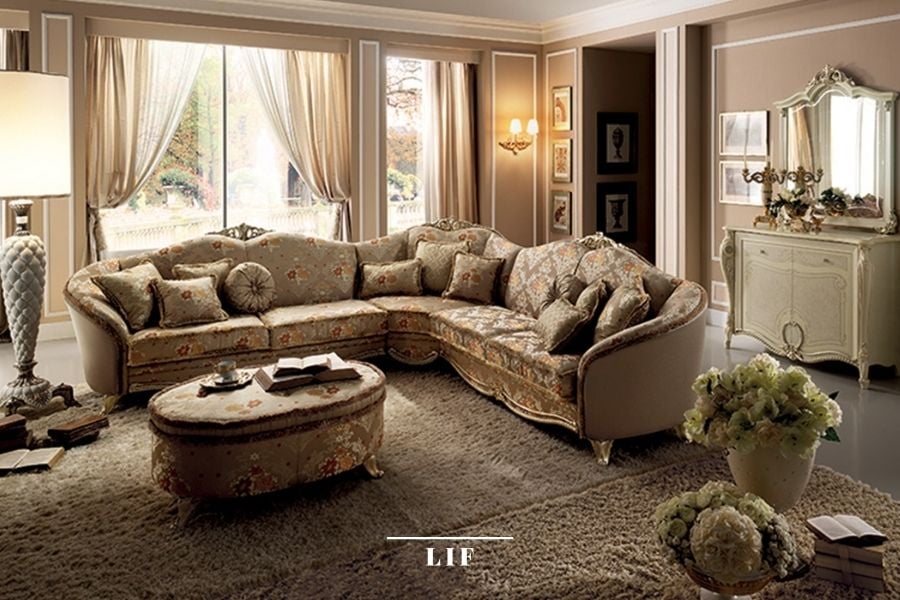 4. How nature creates: the colours of the earth
The colour variations of earthy colours are just as infinite as the nuances found in nature: from the intensity of red/orange hues to the mysterious and chic aura of forest green, from the mellowness of yellow ochre to the neutrality of brown, including nuances that are so "overlapping" as to be indefinable.
Such a wide variety of shades presumes the creation of different styles and atmospheres depending on the colour point we choose for the classic-style sofa.
Bold colours, such as brick red or orange, can be a smart way of enhancing a soft, subdued basic atmosphere (light/neutral walls and furniture) a dark green, brick red or orange sofa can be a smart solution both to enhance a soft and delicate basic backdrop (walls and furniture in light/neutral tones) and to bring out the value of dark wood essences such as walnut, mahogany or cherry.
The choice of a sofa with a warm but not so bright tone is more in keeping with the classic Italian style, but is also suitable for contexts somewhere between classic and modern.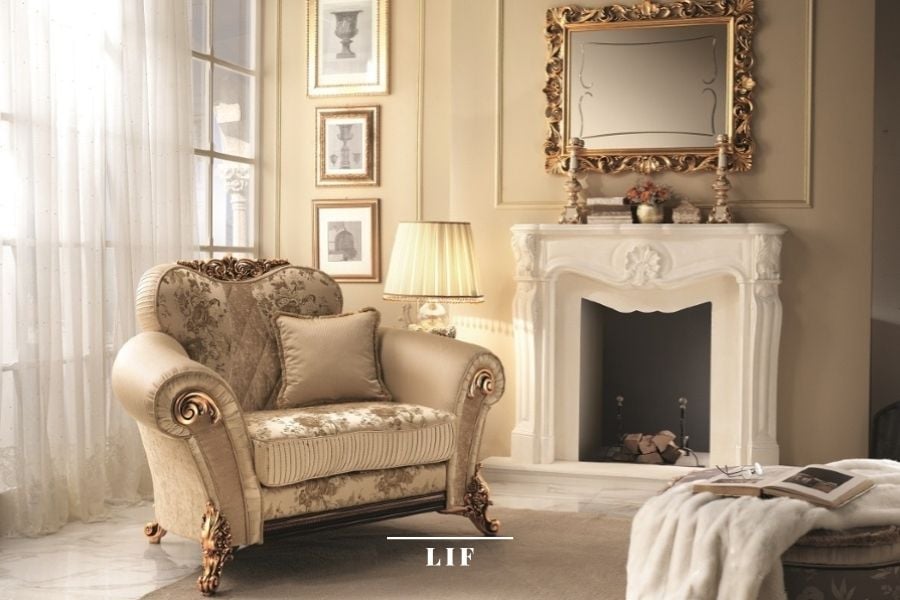 Sofa and classic living room colour ideas: conclusions
Social life is concentrated on the sofa, it is where people relax, where family and friends meet to talk, think and laugh.
That's why the colours of the classic sofa should be chosen with care and balance: they should have a positive and reassuring impact on those who live there every day, as well as on guests who come to visit.
The colour shade is a perfect match for the other furniture in the living room.
In tune does not necessarily mean aligned with the nuances of the furniture, the display cabinets or the table, but in harmony with the overall view.
Even if it is in a colour that contrasts with the rest of the furniture, the colour of the sofa could still be a good choice.
If the room is dominated by light, neutral shades, a black, grey or dark blue sofa creates a colour contradiction that catches the eye and adds verve to a delicate, relaxing atmosphere.
The reasoning also applies in reverse: if the palette for walls and furniture turns to browns and/or dark reds, a white or beige sofa gives lightness and brightness.
In both cases, the colour contrast is a stylistic "gem" that further enhances the high-quality materials and luxurious details of the classic-style living room.