The bedroom is the realm of your intimacy. It is the place to rest at night, but also a place where to relax during the weekend.
The contemporary bedroom in particular, responds to every need for comfort and cleanliness of spaces. These contemporary style features no doubt contribute to making this quiet and intimate environment serene.
We take refuge in the bedroom to read a book, to pamper ourselves with body creams and comfortable clothes, after a nice warm bath, perhaps on a winter Sunday.
This is why every corner of this space should evoke rest, tranquillity and relaxation. A room's furnishings contribute considerably to create its atmosphere: they influence the emotional impact of those who enter it and those who live in it.
Decorative objects, wall colours, materials and fabrics are the real protagonists of interior design and they help us to fill the spaces with the objectives of livability and style that we establish.
If you are thinking of decorating your bedroom in a contemporary style, let yourself be inspired by reading this article. Your bedroom will become a place of refuge and relaxation, and every single corner, well designed and decorated according to the rules of style, will induce rest and give peace to your senses.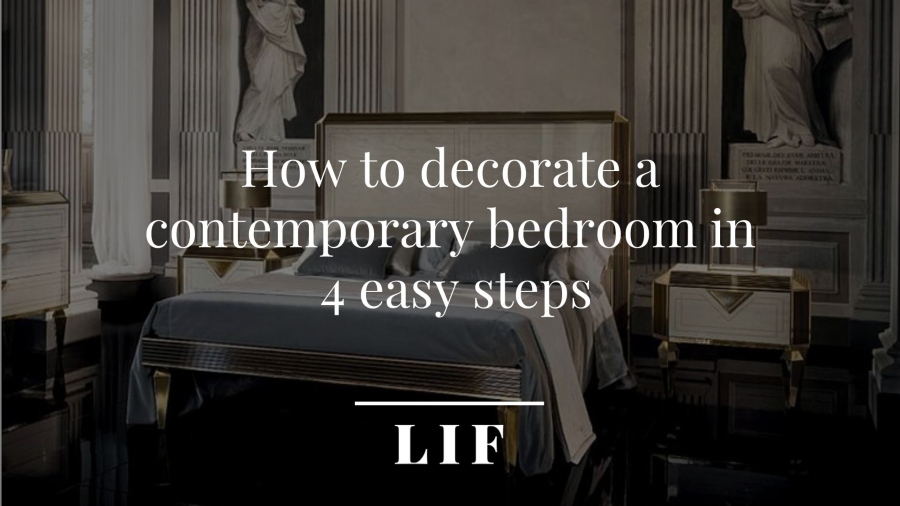 Some basic rules of contemporary style
If you have chosen a contemporary style to furnish your room, you will need to take into account some basic rules before dedicating yourself to decorations and furnishing accessories, so that the impact is harmonious and consistent.
An essential aspect of this style are the empty spaces. Regardless of how many square feet you have in your room. Make sure that the spaces are sufficiently airy and that the environment is neither too full nor too messy. Leave the right amount of space between the bed and the wardrobe for freedom of movement and for a cleaner and more elegant aesthetic impact.
When choosing furniture, let yourself be guided by a principle of essentiality - another fundamental rule of this style -: it will help you to keep only what you actually need.
It is preferable to have a few pieces of furniture with a certain personality and that are well harmonized, rather than disharmonious and suffocating chaos.
A third rule of contemporary style is to combine tradition with modernity. The combination of past and present can be obtained, for example, from the contrast between the shapes and design of a piece of furniture - perhaps with a more traditional and classic impact - and its materials and fabric colours, which give it a more typically contemporary touch.


Creating the right atmosphere: what are the must-haves of the sleeping area?
Before we indicate how to revolutionize the look of your contemporary bedroom with new decorations, let us show you in a few words what you need to keep in mind when trying to create the right atmosphere through the new design of your room.
Warmth and cosiness
The bedroom should inspire warmth and should be cosy. No one wants to sleep and rest in a cold and inhospitable place. Be careful to add elements that suggest this feeling when decorating your room.
Order and simplicity
Rest is no doubt favoured by a tidy and uncluttered environment. Take this into consideration when choosing the number of accessories and furnishings. Even in contemporary decors, the goal is never quantity but quality.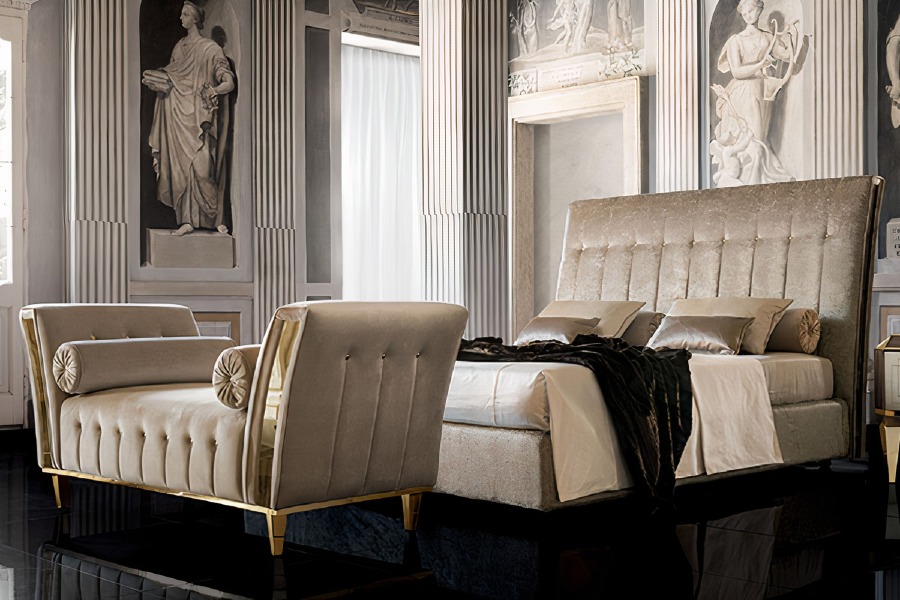 Decorate your room in 4 steps
With this in mind, we now present the 4 basic steps to decorate your bedroom in a contemporary style.
1. Colour the walls with soft shades
There is nothing better than neutral colours to enhance relaxation. Neutral colours are in perfect harmony with contemporary design.
Avoid colouring the bedroom walls with colours that are too bright. Use softer shades such as ivory or other light nuances such as beige. If you love touches of colour, consider decorating a single wall with wallpaper, as long as it is not excessive and matches the rest of the furniture in both colour and shape.
2. Bedspread, cushions and curtains: renew the fabrics
Fabrics play a very important role in bedrooms. They have the power to give spaces a new life. Decorate your contemporary bedroom with soft fabrics: linen, cotton and velvet are ideal for bed and window fabrics.
Velvet in particular is widely used in contemporary furniture and adds an elegant and glamorous touch to the environment.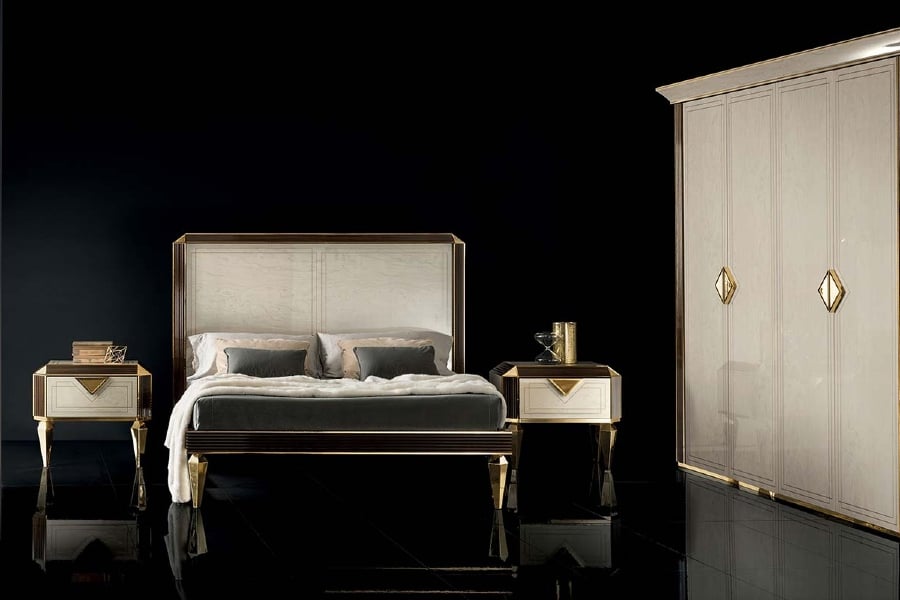 3. Carpets and mirrors: the refinement of decorations
In a room with neutral colours and clean lines, feel free to be daring - let your personality guide you - by adding a beautiful carpet decorated with geometric figures or a large mirror, above a chest of drawers.
The mirror's decorations will make the space more refined and bright.
4. Lighting: choose various solutions
As already mentioned, the bedroom is a space for resting, but also for self care and reading. We suggest you choose several lighting solutions, so as not to preclude the various possible actions in such an important and lived-in room.
You can opt for a row of downlights in the wardrobe area for more decisive and functional lighting. Next to the bed, instead, place warmly lit lamps so as to ensure the right relaxation, before the night's rest.
If you have enough space, we recommend that you create a reading corner, placing a floor lamp, between a comfortable armchair and a coffee table.
The various solutions will give you the opportunity to experience your bedroom for any purpose and at any time of the day.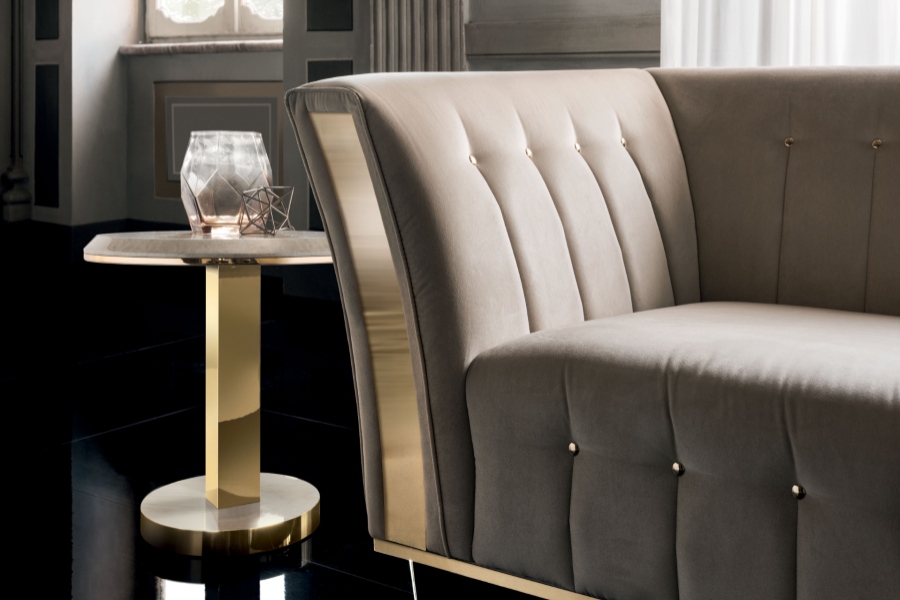 Contemporary bedroom: the stylish haven you've been looking for
Now you know the steps you need to take to decorate your contemporary bedroom.
Follow the rules and let your personality guide you. The bedroom needs to be the perfect haven you've been looking for. And if you love contemporary style, your new space will no doubt be a place full of style and elegance where you can escape the outside world and regenerate in total relaxation.