The Covid-19 pandemic hit the world like a mighty storm, completely revolutionizing every segment of daily life: work and school activities, travel and leisure opportunities were overwhelmed by a sudden force that shuffled the cards of a society that had been well established for decades.
This sudden change of scenarios has also reached the home decoration sector highly influenced by a radically altered lifestyle, which has consequently aligned its trends with the new decorative and functional needs arising from a precarious and constantly changing situation.
This accelerated evolution has prompted reflection on the part of professionals and customers, who are the creators and spectators respectively of trends that will take - and are already taking - possession of structurally and aesthetically redesigned spaces.
In a mixture of merged practical needs and ornamental aspects, we are witnessing a regeneration of our living space that provides inspiration for the stylistic redesign of our homes.
In this article, we find out which interior design trends of 2021 are having the most success and how new furniture innovations can be integrated into existing furnishings.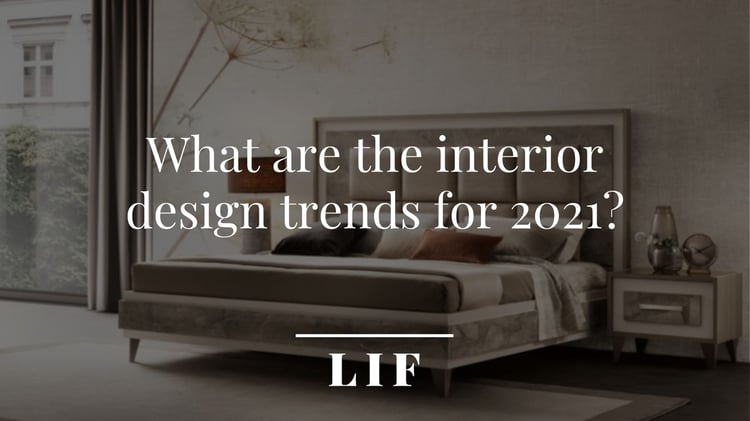 Interior design, the revenge of multifunctional spaces
Between seasonal trends and stylistic reconfirmations, we leave behind us the design trends of the past year without completely putting them in storage, to discover what the future holds.
Interior design trends 2021 revolutionize the division of space, moving away from the separation of rooms to a vision that welcomes the concept of co-living with open arms.
A design rethink that is the child of the modern age, which forgets the rationality of separate rooms, instead encouraging the creation of shared areas that are increasingly fluid in structure, to facilitate a daily life lived within the walls of the home for many hours.
Multi-tasking spaces, with a marked fluidity, in which the lounge dialogues with the living area, in a harmonious continuum that increasingly blurs the boundaries thanks to passe-partout furnishing accessories such as poufs but also by versatile side tables which are often positioned in the middle of the room with an imperceptible dividing function.
In response to living needs that demand freedom, the 2021 interior design trends place great emphasis on hybrid, modular and space-saving solutions, equipped with secret containers that can be adapted to changing needs as time goes by.
The triumph of craftsmanship in support of quality
On the wave of the eternally valid motto "less is more", the home is stripped of the superfluous to make room for qualitatively superior solutions, where the craftsmanship of each piece is the winner.
The charm and craftsmanship of exclusive, well-designed elements are winning over an increasingly large share of the market, which is interested in bringing contemporary style and elegance to rooms thanks to the inclusion of special furnishings.
The 2021 interior design trends emphasize the move towards a new vision of luxury, which is concretely translated into the use of premium materials.
The materials become the protagonists: from marble to leather, velvet and stone, textures mix and speak an elegant language, which gives the rooms a modern and highly customizable touch.
In a phase of exploration that focuses on beauty but does not forget the priority of comfort, we are seeing a search for furnishing elements with soft, sinuous and enveloping shapes, in a succession of upholstered armchairs and velvet chaises longues that characterize both the living area and the bedroom, infusing them with that much sought-after sense of peace.
Wallpaper, the clever alternative that brings walls to life
Very much in vogue a few decades ago and then left on the sidelines for some time as it was considered unglamorous, wallpaper is back again to enrich the walls of our homes, becoming one of the interior design trends of 2021.
Having abandoned the idea that it was an exclusively vintage element, wallpaper is experiencing a moment of great approval from architects, designers and clients.
And those who decide to decorate the walls of rooms in the home using this solution, can count on a rich selection of patterns, materials and colors to suit any room.
We are talking about natural fibers and metallic finishes, gauze and linen, raffia and silk, but also fabrics and vinyl, special finishes characterized by a precious and particular material rendering, which meet the most diverse aesthetic visions.
The wallpaper market has been hit by a wave of creative freshness thanks to the latest solutions and materials, becoming an increasingly distinctive presence in the home.
In addition to deciding which texture and pattern we prefer to use, it is important to understand where to apply the wallpaper.
To avoid an excessively suffocating effect, it is advisable to wallpaper a column, a corridor or an anonymous part of the entrance hall to which we want to give character, thus giving life to an environment without, however, weighing it down visually.
In the bedroom, for example, the wall behind the headboard is the wall that is most suitable for wallpapering: this guarantees a dynamic scenic effect without the heaviness of covering all the walls.
After having understood all the characteristics that make the use of wallpaper in a home special, we are faced with a question: what are the most popular and used patterns?
Let's find out what's new in this category:
1. Clean symmetries with geometric patterns
Certainly not new, but still very popular, geometric patterns take over the walls, creating interesting proportions with essential and rigorous lines.
In the bedroom and living area, the patterns used replicate the effect of large strips of color usually on a single wall so as not to create a looming effect, which takes away airiness and light from the room.
Although perhaps little used and well known, wallpaper can be used in the bathroom, after having been properly treated with anti-humidity finishing.
The trend here is for more abstract motifs, repeated in series to form an optical effect that plays with two predominant shades.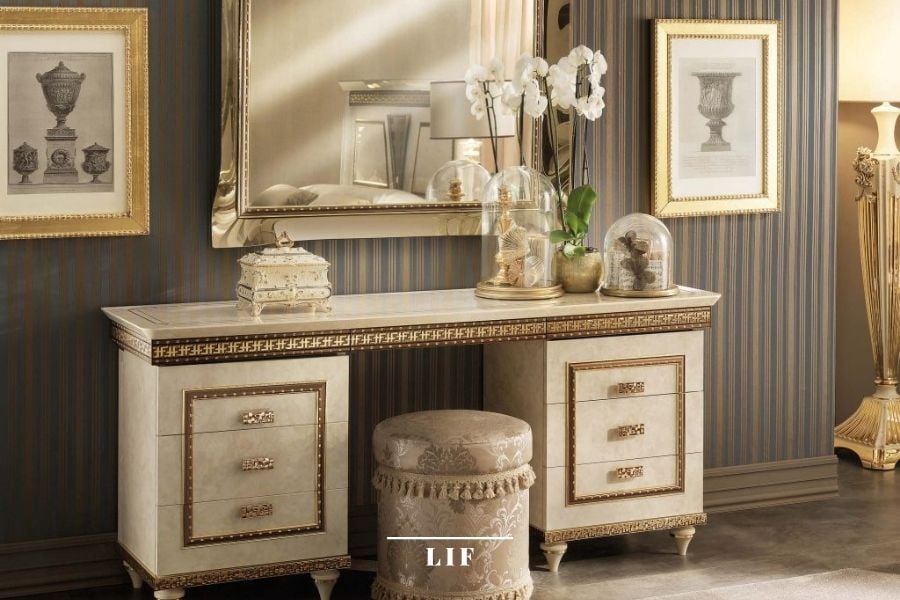 2. Flowers and plants, green light for maxi format
Among the wallpaper category of 2021 interior design trends, we find another great classic: the botanical-themed wallpaper, which is always very up-to-date and versatile.
In this case, the walls take on an unmistakably green and exotic mood, catching the eye through oversized reproductions of flowers and plants.
Wallpaper with floral motifs is the ultimate expression of shapes and colors and is indispensable for those who want to create a cheerful, lively and certainly original ambience.
Floral patterns go well with natural furnishings, preferably in wood, for a clear reference to the more natural dimension. But not only that.
For a totally opposite and slightly more extreme rendering, the botanical vibes hold up well to a contrast with golden elements.
3. Three-dimensional wall textures
If you wish to recreate a classic ambience the interior design trends of 2021 we suggest a revolutionary wallpaper with an absolutely realistic and precious three-dimensional marble effect.
The particular rendering gives the walls a very sophisticated material effect.
Various color combinations are available on the market, but the most popular combination is the white background broken up by golden veins.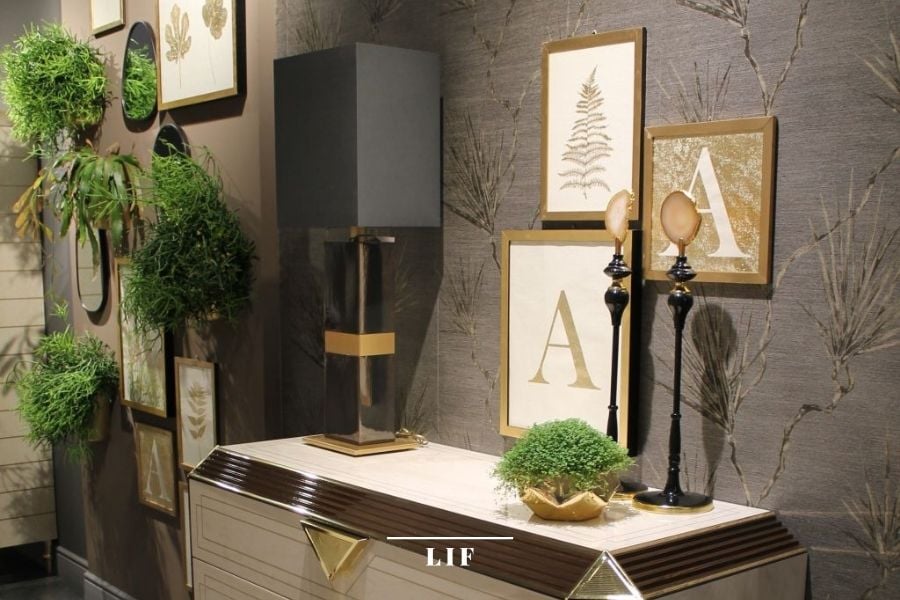 Trends and personal tastes, a delicate balance
The home is a living space that is constantly evolving. It is affected by more or less passing fashions and trends, destined to last over the years or to disappear in the space of a few seasons.
But the living space is above all a faithful reflection of the people who live in it and their habits. This is why, apart from the trends, which are very useful for research and inspiration, it is essential to carefully choose the functional and decorative elements to be included in your rooms.
While it is true that the 2021 interior design trends help us to unravel a sector that launches and swallows up trends overnight, it is also undeniable that it is essential and legitimate to follow personal taste.